A week from tonight marks the second Special Town Meeting Southborough is holding in less than 6 months. The Town is going to great lengths to avoid some of the issues from the last meeting.
The main focus – getting next Wednesday's meeting started on time and moving along efficiently.
To that end, voters are encouraged to carpool, carry licenses for scanned check-in (but don't worry if you don't have one), and take advantage of shuttles from Neary parking lot. Process changes will also hopefully make vote counting quicker and the meeting friendlier to any voters that can't fit in the auditorium.
With these changes, the Town intends to start the meeting on time at 7:00 pm. So, if you want to hear presentations on Articles 1 &2, you better show up early to park and sign in.
Once again, Recreation will be offering babysitting for the meeting. Pre-registration is requested by this Friday, March 3, to help make sure it's properly staffed. (Scroll down to the bottom of this post for more details on babysitting.)
If you had issues at the October Meeting (or heard about the problems), you might be worried about dragging kids (or yourself) out for a long, fruitless night. But there is good reason to be optimistic that things will be different next week.
In October when the meeting was due to start, there was still a line out the door, cars circling looking for parking, and not enough seats in the auditorium. The confusing situation caused the meeting to start about an hour late. Non-voters attending (like Town Department heads) had to be relocated from the auditorium, and for voters who still couldn't fit, an overflow room setup.
While voters in the annex could hear the meeting and see presentations, they couldn't be heard, unless they came to a mic in the auditorium.
In addition, vote tallies became confusing, especially when counters were trying to count based on voters standing, while some voters stood in the back of the room. That led to repeated counts on close calls.
Parents who had taken advantage of the babysitting offered at the facility likely weren't expecting to keep kids up as late as the meeting ran. Some had to leave before the Articles they had specifically attended to vote on came up.
Those are all issues the Town Clerk is determined to avoid a repeat of. Researching better processes, he attended Town Meetings in 5 other Towns. Based on those experiences he is implementing changes.
Officials are anticipating another big turnout. But hopefully, the changes will be enough for the meeting to run smoothly. They are even setting up an overflow area (if needed) to allow speakers to be recognized remotely by the moderator and projected to the auditorium audience.
Here is an excerpt from the announcement submitted by Town Clerk Jim Hegarty: 
The Special Town Meeting will start ON TIME at 7 pm on 3/8/17.

Limited Parking
Please carpool ‼ We expect more than 1,000 people to attend this very important Special Town Meeting and there are only 425 parking spaces between the Trottier Middle School and Neary School.

There will be 20 reserved parking spaces for cars with handicapped stickers in front of Trottier.

There will be a shuttle van to drive people from the Neary parking lot to Trottier. This van will run from 6pm to 8 pm.

When the auditorium is full, voters will be directed to the gymnasium where there will be seating for 600 voters. The same audio and video from the auditorium will be displayed in the gym. There will be 2 microphones set up in the gym for voters to participate in the meeting. There will be cameras focused on each microphone and those images will be shown on a monitor near the moderator in the auditorium so he can recognize anyone in the gym who chooses to speak on an issue. The audio from the gym will feed into the auditorium system as well as the SAM system.

Much Faster Voter Check-In Process
We no longer use the paper book and ask your precinct, street, and last name to check in!

Voters will be asked to scan the back of their drivers license at any one of 8 check-in stations. If a voter chooses not to display their drivers license, the voter will be asked their last name and first name to check in. This process will be much faster than the old system!

Improvement in Counting Votes
Registered voters will be given a yellow voter card when they check in. They will need to display that card to enter the auditorium or the gym. When the moderator calls for a hand count of votes (which is required for all articles requiring a 2/3 majority), the voters will remain in their chairs and simply hold up their yellow card to indicate their vote. This process will make it much easier and faster for the tellers to count the votes. It will also ensure that only registered voters – those with a yellow card – have their votes counted.

The Moderator must approve any non-voters who wish to attend the Special Town Meeting in advance. Non-voters will receive a red card which will allow them to go to the Band Room where they can watch the Special Town Meeting.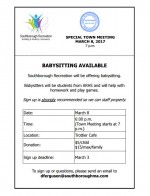 Babysitting
Southborough Recreation is offering Babysitting by ARHS students:
Students will help kids with homework
Additional entertainment: Movies (bring a pillow or comfy chair), games and coloring.
Pizza, water/juice and snacks will be provided (no peanut butter) or bring your own labeled snack.
There is a donation requested of $5 per child/$15 per family.
Pre-registration is requested by Friday, March 3rd. (Click the registration form right to open the pdf.)
If you have questions, call the Recreation Department at (508) 229-4452 or email dferguson@southboroughma.com.