[Ed note: My Southborough accepts signed letters to the editor submitted by Southborough residents. Letters may be emailed to mysouthborough@gmail.com.
This is the second of two letters from the Public Safety Study Committee as we approach Special Town Meeting. Normally, I wouldn't accept multiple letters from the same party on the same issue. But they convinced me that the letters are covering different aspects of the project. Given the scale and scope of the project voters are being asked to decide on this Wednesday, I decided to allow it.]
To the Editor:
The Public Safety Study Committee ("Committee") has worked tirelessly over two plus years to evaluate the needs of the Town of Southborough's Police and Fire Departments' facilities and recommend various options to the Board of Selectmen.  During this time, we have held over 40 public meetings where we have sought the input of residents and other town Committees and Commissions.  The presentation that will be made at Special Town Meeting is the culmination of those efforts and is reflective our Committee's collaboration with numerous other groups outside of just public safety in order to construct a building that our police officers and firefighters are in desperate need of in the most fiscally responsible way.
For those that missed our first letter a few weeks ago related to the need for new facilities and the site options examined, please refer here:  PSSC Letter: Project Need and Site Options
This week's letter will focus on the details on the building size, site plan, project cost, and the interaction of proposed facility with the contiguous parcels (remainder of golf course, Choate Field, and Woodward School).
Building Size  
Why does the proposed Public Safety Facility need to be so big? Can it be built smaller?
The Committee undertook a feasibility study in late 2015 with the assistance of our consultant, Donham and Sweeney, who has been involved in numerous other public safety building projects. The study examined the current needs of the police and fire departments to bring them up to modern standards, but it also anticipated future growth. The Committee has reviewed the needs of both departments in great detail and believe that they are reasonable needs and are comparable to departments with a similar operation profile in other towns. The proposed size of the facility is also in line with the findings of a separate committee formed by the Town back in 2007 which consisted of different residents and Chiefs.
We often get questions of why we need a facility that is 35,000 square feet when it is only occupied by 8 to 10 people a day. This is not true. During business hours, there are currently 18-20 police and fire personnel working in the building and 8 to 10 people during non-business hours. These figures do not involve the extra personnel there during shift change, coming in for details, or members of the public that may be using portions of the facility. Keep in mind that this is a 24 hour a day, 7 day a week, 365 days a year occupied facility. This is unlike any other facility that the town operates.
What do comparable towns to Southborough have for a public safety building size?
Each town has its own unique operations, especially for purposes of the Fire Department, so it is tough to draw sharp comparisons. The Committee independently compared the space needs for the Town of Southborough that was developed as part of our Feasibility Study in 2015 with communities going through similar combined public safety building projects. Our research indicated that the combined space needs for the Town of Southborough were comparable to what other communities with populations from 5,000 to 15,000 were also showing as space needs.
It is important to remember that a combined facility will save at least 10 % in gross square footage and at least $2 million in cost as opposed to building separate police and fire facilities. Recent analysis that we have received from our consultant shows that this savings number could be well north of $2 million, depending on the site location, even if the town owned the proposed land.
We have heard a lot of comparisons being drawn to other communities in various public forums. Many of these comparisons are being drawn to much larger communities with multiple fire stations. Southborough only operates one fire station so all apparatus and personnel are housed in one location.
Isn't it more cost effective to just renovate the Fire Station and build a new Police Station?
When the Committee was originally working in the Feasibility stage, we received a cost estimate that the difference between new construction and renovation for the Fire Department portion of the project would be $400,000. Due to the unknowns of renovation and not wanting to take a "band-aid" approach, the Committee proceeded with recommending new construction. In addition, renovation would displace the Fire Department for an extended period of time creating operational issues on top of increased costs for temporary housing.
Floor Plan
Proposed floor plans are available here:
We have heard comments and feedback that this building is developed with a "silo" mentality. Certain areas are. For example, the Police Department must keep a secure environment for obvious reasons and the Fire Department must also keep a secure environment due to the medical equipment, but there is also a significant amount of shared space (dispatch and meeting/training room in particular). The building is not being built together to combine the operations of the departments into one. It is being proposed as a combined facility to limit the infrastructure that the town needs to maintain going forward while giving us the ability to save at least $2 M in project costs.
While the public will also have access to the meeting room, it is also important to remember that this room will function as the Emergency Operations Center in the event of any major incident in town. This would be the hub of activity where all emergency operations would be coordinated from and is a critical component of a combined facility.
Site Plan
The Committee has vetted various site plans and positioning of the potential Public Safety Facility on the St. Mark's Golf Course as we received feedback through our public meetings to accommodate various stakeholders. Below is the proposed Schematic Design which would be subject to final site plan review by various Town Boards and Committees, if approved by Town Meeting and at the polls: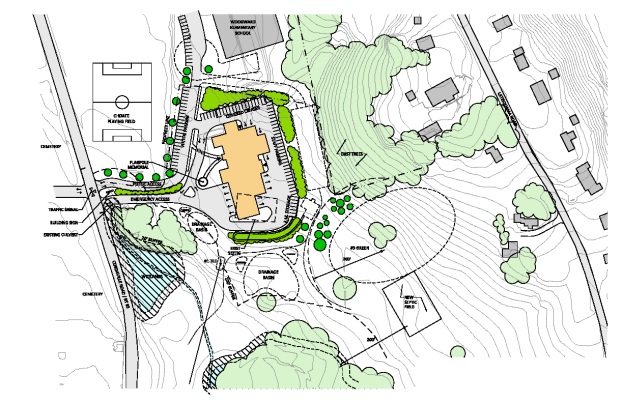 The Schematic Design tried to accommodate enhancements to the Woodward traffic flow as requested by the School Committee in order to integrate the contiguous parcels (Choate Field, Woodward School, and the Golf Course). The plan as presented would also allow for continued golf course operations with some minor redesign. The only portion of this plan that is funded through Article 1 is the actual land purchase and construction of the Public Safety Facility, but this diagram is being presented to show how a Public Safety Facility could integrate with the contiguous parcels.
Project Cost
How much is this going to cost the Town?
The expected total purchase price of the land plus the construction of the Public Safety Facility is currently estimated at approximately $27 million ($4.5 million for land and $22.6 million for construction of facility).
The $22.6 million cost is what our Committee considers an "all in" cost which includes potential costs that are needed to get utilities to the new site, set up traffic signals, and give an industry standard 10 % contingency on the hard and soft costs. We felt that anything short of this number would not be in line with the full transparency that this Committee has tried to show throughout the project. We do not want to be in a position where Town Meeting has to approve additional funding for this project.
If Article 1 and 2 are successful, we have strongly encouraged the Board of Selectmen to form a Building Committee. In addition to approving the final designs and working with the various town boards and departments to obtain the necessary approvals, we would expect that this Committee will have fiscal oversight of this project to ensure that money is spent properly and in line with the original budget and space needs. There have been numerous recent examples in neighboring communities where recent public safety projects have come in well over $1 million under budget due to strong fiscal oversight.
If you are interested in the historical cost projections of this project to view the various iterations that this Committee reviewed and provided feedback on, they are available here: Historical Cost Comparison
It is important to remember that by not approving Article 1 and 2, we would be forced to separate the police and fire facilities and would likely lose another year in design. The overall cost to the Town to separate these, delay another year, and perform deferred maintenance on the existing facilities would add at least $4 million to the total cost.
How much is this going to cost the average taxpayer?
Based on a $27 million cost, the gross cost of this project for the average taxpayer is $391 per household. However, with the declining school debt payoff, the average household will see an approximate $137 per year increase to their property tax bill. For purposes of this calculation, the average appraised home value is $577,456.
The chart below shows what the impact would be if the project cost were $1M higher or lower than the amount being sought in the original motion on Town Meeting floor:

Questions?
Have a last minute question that you'd like answered before Town Meeting?
Submit a question online: Ask the Committee
In closing, this Committee appreciates all the time and effort of those that have worked collaboratively with us during this process to bring forward this proposal to Town Meeting floor. Our police officers and firefighters are in need of new facilities and this proposal not only gets them new facilities, but it does so much more for the Town of Southborough as we also get the opportunity to preserve over 90 % of the Golf Course as Open Space and allow for continued golf course operations if the town desires. It also creates the potential for improvements to the current Woodward School traffic flow, and increased recreational use of Choate Field by replacing some current parking spots with additional recreation space. Overall it's a win-win for a lot of different interests in Town.
We look forward to seeing everyone at Special Town Meeting on Wednesday night March 8th at 7 PM at the Trottier School.
Respectfully Submitted,
Public Safety Study Committee
Update (3/7/17 4:13 pm) Editor's Note: My introduction had a typo – a holdover from the first letter from the committee that referred to a meeting in two weeks. Special Town Meeting is this Wednesday night.