Today may be cold, but spring is coming. It's the time of year that we start sorting through old clothes and getting rid of things our kids have outgrown. A Trottier Middle School student hopes you'll bag them up and haul them in.
(Or maybe grab a new pack of undies or socks while you're spring clothes shopping.)
Laine Johnson is the 8th grade student representing Trottier in Governor Baker's "Project 351". Each of the 351 middle schools in the state nominate an ambassador to work on the Projects' volunteer efforts for non-profits.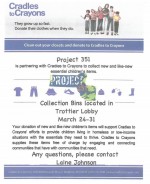 Their current effort is again supporting Cradles to Crayons:
Cradles to Crayons provides children from birth through age 12, living in homeless or low-income situations, with the essential items they need to thrive – at home, at school and at play.
Johnson will be setting up collection bins at Trottier Middle School to collect donations beginning this Friday through March 31st.
According to the charity's website, items sought include boys and girls clothing, baby supplies and gear, books, craft supplies, toys, baby gear, and more.
And while some items need to be new, many can be gently used. For guidelines on what is accepted/appropriate, click here.