This Friday morning, Southborough's Sheryl White will be holding a Sing Language Stories & Songs event at the Library. The free event is for 2 month old infants through 5 year old preschoolers.
White will run a circle time teaching baby signs through songs, puppets, books, rhymes, stories and more.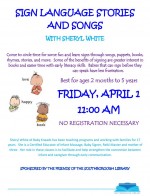 Why learn sign? The flyer pitches:
Some of the benefits of signing are greater interest in books and easier time with early literacy skills. Babies that can sign before they can speak have less frustration.
(You can learn more about that through a write-up of one of White's recent library events in Athol – click here.)
The special event takes place Friday, April 28th at 11:00 am. It's open to the public, no registration required.
The program is sponsored by The Friends of the Southborough Library.