This Saturday night is the Algonquin junior prom. For many parents, Prom comes with worries about substance-abuse tragedy on a night that is known to be one of the most dangerous nights for teenagers.
For over twenty years, that's something that our community has supported avoiding for Algonquin Prom-goers.
So, how do you entice juniors not to go wild after the biggest social event of their teenage lives? Apparently by organizing a "free", safe after-party so amazing, they can't resist. (That's not cheap to pull off.)
The APTO (Algonquin Parent Teacher Organization) is asking for help funding the Post Prom again this year. They are also seeking volunteers to help out.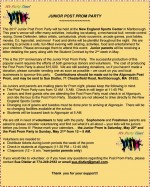 The May newsletter from the APTO states:
We are on our way to making the Junior Post Prom Party a success – But we are still SHORT of the amount NEEDED! . . .

The after party starts at midnight till 5AM on May 21st. This entertaining, and most importantly SAFE event is funded solely by donations from parents and local businesses. We DO NOT CHARGE for tickets.
This year's fun includes ice-skating, a mechanical bull, remote control racing, Dome Defender, tattoo artists, caricaturists, photo souvenirs, arcade games, pool tables, movies, DJ, hypnotist, and more.
If you would like to volunteer or have any questions regarding the Post Prom Party, please contact Sue Distler at 774-249-0182 or email sue.distler@gmail.com. Contributions should be made out to the Algonquin Post Prom, and may be sent to Sue Distler, 71 Chesterfield Road, Northborough, MA 01532.