The Southborough Library is inviting the public to another author night this spring. Next up is bestselling author Christopher Golden.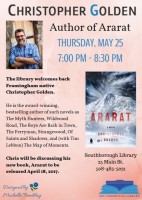 Golden is a prolific author with works including novels: The Myth Hunters, Wildwood Road, The Boys Are Back in Town, The Ferryman, Strangewood, Snowblind, and Of Saints and Shadows.
Golden, a Framingham native, visited the library in 2014. At the time, he was promoting his horror novel Snowblind. He also answered questions from the public about his writing process. (You can see that video here.)
On Thursday, May 25, Golden will talk about his latest novel – Ararat. It sounds like another chilling horror adventure.
The story follows a team of scholars, archaeologists, and filmmakers exploring what they believe to be Noah's Ark, an ancient ship discovered buried in a mountainside:
they discover an elaborate coffin in its recesses. Inside the coffin they find an ugly, misshapen cadaver―not the holy man they expected, but a hideous creature with horns. Shock and fear turn to horror when a massive blizzard blows in, trapping them thousands of meters up the side of a remote mountain. All they can do is pray for safety. But something wicked is listening to their prayers…and it wants to answer.
While the main work to be discussed is adult fiction, the author night may also appeal to teens. In addition to novels, the prolific author has written and collaborated on young adult works and graphic novels. They include many works related to Buffy the Vampire.
You can learn more about author Christopher Golden here.
The author talk will take place in the Library's main level from 7:00 – 8:30 pm.