Here are highlights of what's happening around town this week. (For more, check the Event Calendar.)
[Note: The highlights don't include ongoing weekly programs. For the Southborough Library's regular storytime programs, click here for their events page. For the Southborough Senior Center's ongoing classes, click here for their calendar.]
Tuesday, May 30, 2017
Young Scientists (11:30 am – 12:30 pm) @ Southborough Library, Eaton Meeting Room: Free STEM (Science, Technology, Engineering and Math) program for kids age 3-5. Must be accompanied by a parent/caregiver (Siblings are welcome.) Registration is required. Call 508-485-5031. For details, see dedicated post.
Ethics Training (6:30 – 8:00 pm) @ Senior Center 9 Cordaville Road: Southborough residents and all Southborough employees, board and committee members, and elected officials are invited to attend a training session on the Massachusetts Ethics Law requirements. Presenter: David Giannotti, Public Education and Communications Division Chief for the State Ethics Commission As part of his presentation, Mr. Giannotti will answer questions from the audience. Please contact Town Clerk Jim Hegarty if you have any questions. (508) 485-0710 x 3007.
Wednesday, May 31, 2017
Trottier Big Band (3:30 pm) @ Southborough Senior Center: Free concert for seniors. Southborough middle school's award winning Big Band is an audition-only group that loves to play big band and jazz tunes. Annually, they capture top accolades from the region's most prestigious jazz competitions. Boxed meal will be provided. Performance at 4:00 pm. Please sign up by calling 508-229-4453.
Rotary Youth Leadership Awards (6:30 – 8:30 pm) @ Southborough Library: Southborough Rotary will present the annual Rotary Youth Leadership Awards (RYLA) to accepted applicants from Algonquin Regional High School and St. Mark's School. A pizza celebration will follow the ceremony.
Thursday, June 1, 2017
Art Workshop for Children (3:00 – 5:00 pm) @ Southborough Library, Eaton Meeting Room: Children ages 5-9 are invited to be a part of the drop in art workshops. (Siblings allowed.) This session,children will make Marbleized Paintings. Registration is not required. The workshop will be run by Bigelow Center for the Arts; Lanting Huang-Truong. Sponsored by the Community Fund, a fund of the Foundation for Metrowest.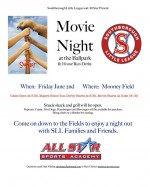 Friday, June 2, 2017
Movie Night & Home Run Derby (5:30 – 6:30 pm) @ Mooney Field: Enjoy a night out with Southborough Little League Families and Friends. Gates Open at 5:00, Majors Home Run Derby Starts at 5:30, Movie "The Sandlot" starts at dusk/8:15. For details, see flyer right.
Saturday, June 3, 2017
Maggie Neary Blues Band Alumni Concert (3:00 pm) @ Trottier Middle School: An Alumni Tribute Concert Steve Curtis who is retiring after 38 years of teaching band to Southborough students. Organizers are inviting any alumni out there to join them. For details, see dedicated post.