Yesterday's ceremony at Algonquin honored the graduating Class of 2017. But they weren't the only ones honored. Students also took the time to remember a classmate no longer with them, and appreciate two administrators with their own milestone.
Early in the commencement, two Southborough students were honored for their special achievements: Valedictorian Noah Brazer and Salutatorian Katelyn Li. (See that here.)
Later, Class President Brendan Foley, remembered late classmate Eric Green. He referred to Green as the classmate everyone wanted to get to know. He followed, "Eric brought us together when he left us." Foley said that graduates were sporting EG green stickers on their caps. He thanked and credited Eric for the warmth Algonquin has that most high schools don't.
Following the awarding of diplomas, Foley returned to the mic with Class Vice President, Southborough's Jen Fox. They honored two more "graduating" members of Algonquin, their retiring Principal Tom Mead and and Vice Principal Mel Laughton. Foley quipped that the retiring administrators finally passed the MCAS. (You can see their speeches here.)
Here are a couple of the pics I found online:
For pics posted to Instagram, click here. For Southborough Wicked Local's gallery, click here.
And here is the list of the 146 graduating students from Southborough out of the class of 360: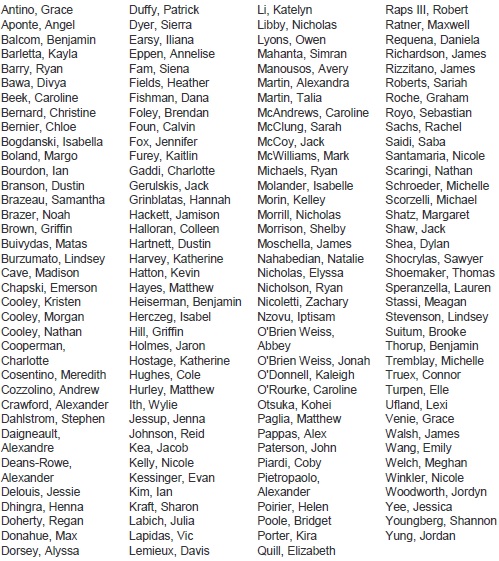 Updated (6/6/17 10:02 am): Added the number of graduating students