This year, Algonquin's Guidance Department researched whether or not continuing rankings is good for the school. Their recommendation was to phase rankings out over the next year.
As proposed, members the class of 2019 that would be the first to not be ranked. Because the class of 2018 received their junior class rankings, they would get updated rankings as seniors next year.
The department presented their findings to the Regional School Committee in April.*
There were several reasons for the recommendation. But the bottom line was that rank hurts many students at high performing schools. And eliminating rank purportedly wouldn't hurt the highest performing students.
As part of their research, Guidance staff surveyed colleges about the importance of rank and how it is used. They found that colleges generally don't hold lack of class rankings against students. But many colleges still factor the data in admission decisions. Having a cut-off makes it easier for them to weed out applications.
That means, students who aren't at the top can be penalized for being in a school full of high performers. (Their ranks are lower than if they had the same scholastic achievement at another school.) Those students were described as including ones who get straight Bs across honors level courses.
Without rank, students below a cut-off would now make it into the pile of applications to be considered. Admissions officers would then evaluate their entire transcript holistically.
What about the school's highest performers? Staff explained that the top two students in the class could get letters from guidance explaining what their ranking would have been.
Guidance also surveyed Algonquin students, parents, and teachers about the impacts of rank on students. The results indicated other cons for class rankings were:
adding to student stress
leading to class selections for the wrong reasons
impeding a culture of collaboration that faculty tries to encourage
82.7% of teachers told guidance that rank has a negative impact on students and the classroom and only 9.3% saw positive impact.
The majority of students and teachers also responded that it has negative impact. But the figures were lower. 20% of students responded that the impact was positive. Some parents and students (and a few teachers) claimed the competitive rankings motivate students to perform better.
Guidance explained that those responses included many underclassmen and parents, who had limited exposure to and understanding of rank and its impact.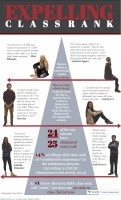 Prior to the presentation, Alonquin's Harbinger wrote a story on Guidance's efforts to change the current process:
"Class rank is always there, because it's in the calculation of grades," Principal Tom Mead said. "It's the question of, 'Do you make a big deal of it, or do you use it in a very discreet way, only when it's going to be a help to a student in his or her application to a certain school?'"

Of the research conducted by the guidance department to substantiate their decisions for next year's class rank proposal, a community-wide survey taken this spring revealed students, parents, and teachers in consensus that exact class rank had a negative impact on the student body. Those directly involved with the school community, however, tended towards more negative review of class rank.
The story included an interesting "infographic" with feedback from a handful of students. (Click image right to view. Click here for their full story.)
At the April meeting, the head of Guidance share an impactful conversation they had at Holy Cross. Representatives from Guidance visited the college's admissions office this spring. Since they were conducting research on ranking, they asked a senior admissions officer for feedback. They were told that ARHS is the highest performing school in the region to still produce class ranks. And he purportedly told them that if he was their principal, eliminating rank would be his first act.
Members of the Regional School Committee were supportive of Guidance's proposal. But they did ask for more information on the small percent of schools that told Guidance class rank is important.
I followed up with Superintendent Christine Johnson on the policy change. She confirmed that the decision hasn't been finalized. The policy change will go back to the committee for further discussion next year.
*I know, I'm late in sharing the news. First, I was too swamped. But I followed up in May, because I thought the presentation was worth sharing. Unfortunately, the meeting video was temporarily unavailable. Finally, I was able to get the video again, and a response from the administration on next steps.