The Southborough Library is holding a monthly series this summer in honor of veterans. The aptly titled "We Honor Veterans" series kicks off next week with a presentation on "Vet to Vet Volunteers".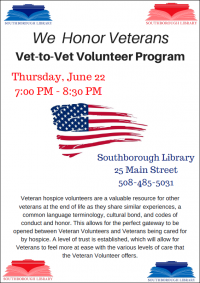 The program takes place on Thursday, June 22 from 7:00 – 8:30 pm:
Veteran hospice volunteers are a valuable resource for other veterans at the end of life as they share similar experiences, a common language terminology, cultural bond, and codes of conduct and honor. This allows for the perfect gateway to be opened between Veteran Volunteers and Veterans being cared for by hospice. A level of trust is established, which will allow for Veterans to feel more at ease with the various levels of care that the Veteran Volunteer offers.
Two more programs follow this summer:
Thursday, July 13 – Veterans Issues at the End of Life

Thursday, August 24 – Wounded Warriors – Their Last Battle
For details on those, click the flyers below to enlarge:
Updated (7/10/17 8:40 am): I just discovered that the July and August sessions (flyers below) were cancelled. On Facebook the Library posted:
The "We Honor Veterans" programs for July & August with Donna Vuilleumier have been cancelled. If you were planning on coming next week or to the August film, please note that the programs are no longer taking place at our library. We will hopefully provide additional veteran-related programming in the future