Updated (8/23/17 8:24 am): I received the following update from the neighbor who originally reached out:
ATTENTION: Alexander has been located. More information to follow. He is OK!

We will let Michael and Dana provide further information if they are comfortable doing so. At this time we wanted to inform all so that everyone knows he's been found and is ok.

Thank you to anyone and everyone who has been assisting, providing info, offering prayers and well wishes. Thank goodness he's been located.
You can read more through NECN's coverage.
————————————-
You have likely seen news alerts about a 20 year old man missing since Saturday morning. The Sherborne resident may have been spotted in Southborough. And his parents believe he is in need of help.
According to a statement by his father, Alexander Barberio has "shown significant cognitive problems in the last few weeks, after testing strongly positive for Lyme disease."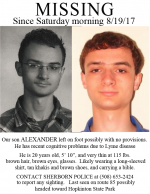 As indicated in the flyer right, if anyone who may have spotted Barberio is encouraged to contact Sherborn Police (508-653-2424).
A neighbor reached out to this blog after learning that someone may have spotted Alex on the Southborough Library lawn. She said that Hopkinton State Park is a possible destination. But, Barberio isn't believed to have anything on him to guide him in his direction and he may be disoriented.
His parents are worried about possible dehydration (especially since he may not have even taken money or water. ) His neighbor shared that Barberio hasn't completed his treatment for Lyme disease and doesn't have his medicine.
His father, Mike Barberio, sent out the following plea for help:
We are urgently requesting anyone who may have seen our 20-year old son Alexander walking in Sherborn or surrounding areas yesterday morning after 6 a.m. to contact us at (508) 545-2665 or the Sherborn police at (508) 653-2424.

He has shown significant cognitive problems in the last few weeks, after testing strongly positive for Lyme disease. He left a note for us describing what to do with all his possessions, but we do not believe he is suicidal. We think he plans to forsake everything and depend on God. In fact the only item he may have taken is his bible – possibly not even water or cash – so we are very concerned about dehydration.

We know he is capable of taking long walks. From the canine tracking yesterday, it appeared he initially went into the woods. It is possible he is trying to avoid being seen, and may still be in the woods, or he may have some destination he is trying to reach.

He is 20 years old, 5' 10", and very thin at 115 lbs., brown hair, brown eyes, glasses. He is likely wearing a long-sleeved shirt, tan khakis and brown shoes, and carrying a bible.

We have made 150 flyers, and would request any volunteers to help us post them in the surrounding areas.

We want to thank the Sherborn and state police for their tremendous response with the canine units and search helicopters. We ask that everyone please pray for his safe return.

Everyone, thank you for your help and support.