If you just put your kids on the district bus this morning, you sent them off to be educated in one of the top public school districts in the Boston area. At least, that's what Boston Magazine is reporting.
The magazine came out with its 2017 rankings. Again, Northborough – Southborough scored high. But (again) rankings will rankle some, since a neighboring town scored much higher.
Our district placed #26 out of 125 (putting us just past the top 20% mark). I always take these rankings with more than a grain of salt. The methodology is usually questionable – as I find it here. Ranking criteria included weighted average MCAS/PARCC scores and "desirable": smaller classes, low student-to-teacher ratio, and higher spending per pupil.*
Based on their methodology, Westborough ranked at #13 and Hopkinton at #25. We did well outrank other neighbors: Ashland – #35, Natick – #38, Framingham – #81, Hudson #90, and Marlborough #105. (Shrewsbury wasn't included in the region.)
I pulled out the data used to compare our district with Westborough and Hopkinton. You can see that below: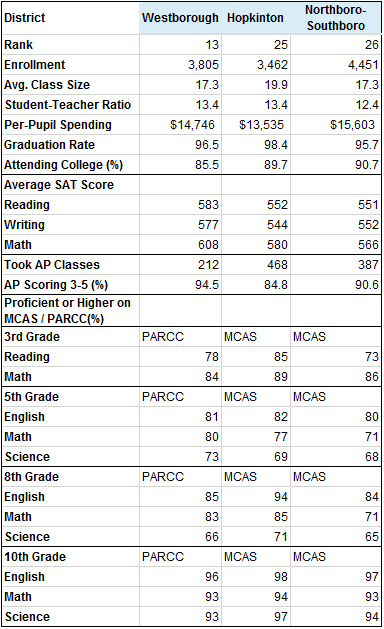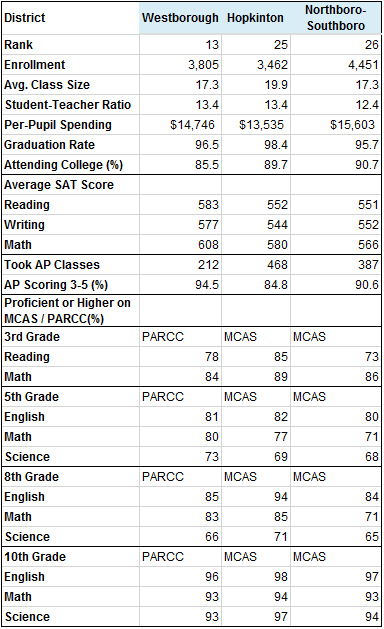 For the full ranking data set (and to sort by criteria), click here.
This year's ranking is higher than their 2013 report. (That year, the district was split with Southborough ranked at #30 and Northborough at #39.) But it's much lower than a 2011 list that ranked Southborough at #8. That ranking included criteria nowhere in this data set – like how many sports are offered and whether the district has pre-K programs. (The original article is no longer available online – so I can't tell you more.)
So, what do you think of the rankings?
If you were to rank schools, what "data" would you prioritize?
The magazine explained:
Methodology: We ranked the 125 school districts that lie within, or partially within, I-495. To compile the list, we collected the most recent available data provided on the Massachusetts Department of Elementary and Secondary Education website (profiles.doe.mass.edu). For districts that report multiple lower grade levels individually, a weighted average score was used. This year some schools took the PARCC test in grades three, five, and eight, while others took the MCAS; the test each district primarily used is noted below. To calculate the rankings, George Recck, director of the Math Resource Center at Babson College, compared each district's data points to the overall average for all districts. He then applied a percentage weight to the standardized data for each district to create an aggregate "score" (we considered a smaller class size, a lower student-to-teacher ratio, and a higher rate of spending per pupil more desirable).