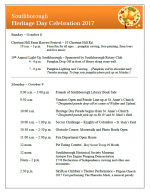 As I previously posted, Heritage Day is coming up on Monday, October 9th with special events the day prior. This week, Southborough Recreation posted the official schedule. (See their flyer right.)
I'll continue posting details for related events/activities over the coming week. This post's focus is Southborough Rotary Club's 19th annual Light Up Southborough.
For those of you unfamiliar, it's a display of lit pumpkins that line the stone wall running around the Old Burial Ground.
The lineup begins on Common Street next to the Southborough Library, runs up the hill, and around the corner on St. Mark's Street.
If you are contributing, drop off your pumpkins from 4:00 – 6:00 pm that afternoon – Sunday, October 8th. (If you want them back, make sure to fetch them on Monday morning.)
After you drop off your contribution, you don't need to go home. You can kill some time before the viewing by joining the Pasta Potluck Community Dinner at St. Mark's Church's Parish Hall. (Stay tuned for more details on that event.)
The lit display is from 7:00 – 9:00 pm. Based on years past, you can expect the Rotary Club to be on hand selling refreshments.
Every year, designs cover a range of traditional, spooky, beautiful, wacky, and clever. Something always surprises me. (Check out these highlights from the year before last.)
I'm looking forward to it again this year (and hoping the weather cooperates better than it did last year). But first, I need to buy some pumpkins for my kids to carve.
Just in time, Chestnut Hill Farm's 10:00 am – 4:00 pm festival earlier that day includes pumpkin carving and decorating. (Stay tuned for more details.)
Or, if you're looking for another source in town for pumpkins, you can check out Gulbankian's Farms. The garden center's Facebook page is displaying a selection of pumpkins and gourds.
[Editor's Note: For more stories on Heritage Day 2017 and related activities, click here.]