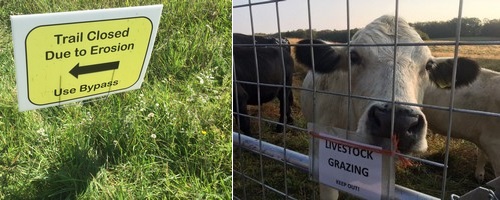 Managers of two popular hiking areas in Southborough recently shared news on changes to their trails. Though you may see some signs to keep out of certain spaces – trails aren't so much closed as redesigned or clarified. The main gist – they just want you to walk another way than you may be used to.
The sites I'm referring to are Chestnut Hill Farm and Breakneck Hill Conservation Land.
Chestnut Hill Farm
You may have read in local news that CHF recently brought in steers. (Scroll down for more on that.)* But you may not be aware that the cattle have been surrounded by electrical fencing.
On the farm's blog, Desiree Robertson-DuBois warned CSA members about the cattle fencing. She explained:
This is to keep the cattle from wandering into our fields of beautiful vegetables or on to the gorgeous lawns of our neighbors. Please be aware that the fences will give you a nasty shock if you touch them so keep younger kidlets a little closer (and while dogs are not allowed on the farm-and this is and always has been the rule set forth by the TOWN- they are particularly sensitive to electric shocks and can bolt, terrified, we've seen it happen).We have not and will not cut off access to permanent trails, even those permanent trails that hug the field edge unless we are moving livestock through that space temporarily. The lanes that were mowed earlier this summer around the bobolink field (now fenced) are NOT a trail and never have been and were mowed to make it easier for us to fence. Sorry for any confusion. As more new fences go up around the farm, you will see certain kinds of 'people-only' gates into some trails/fields, please respect any instructions on the gates for your own safety. . .

Please note that gates will either be open or removed for winter skiing, snowshoeing and sledding! We fully intend that the public will have access to fields when the cattle and bobolinks are not residing there.

If you have any questions regarding the new fencing or trail access please contact our livestock manager, Jesse Robertson at meatcsa@thetrustees.org.
Breakneck Hill Conservation Land

This month, I shared an update from the Stewardship Committee. It included news about signs stolen and vandalized. I learned more about that when I attended their Hike Southborough Day guided walk.
Over the past year, the stewards have redesigned trail paths on the hill to protect grassland bird habitats. To clarify where walkers should and shouldn't tread, the committee produced new trail marking signs. Some signs gave directions. Others explained what was happening. Many of those were crumpled or torn and tossed or taken. (This happened on repeated occasions.)**

Stewards explained that some of the trail changes were to put some distance between dogs and the birds who won't nest there if they feel harassed. Also in support of that effort, the committee took down some old oak trees in the fields. (Not without controversy.) Grassland birds apparently avoid being near trees that can provide viewing posts for predatory birds.
Members of the committee told me that they struggle to balance the needs and uses of the conservation land between supporting wildlife and encouraging public enjoyment.
You can read more about the work they are doing there in my previous post on the parcel.

Both sites encourage hikers to enjoy nature on their trails. This Saturday looks spotty, but forecasts predict Sunday will be a lovely day for a walk. Again, just pay attention to where you step.
Speaking of where we step, a friendly reminder – if you have a dog, please pick up after it. We have a pooper scooper bylaw passed in 2016. It does apply to trails and parks. From what I heard and saw, that's not always adhered to. (I'll spare you my photographic evidence!)
*The Steers were brought in partly to support their meat CSA program. But it also helps manage the land for food production and grassland bird habitat. Southborough Wicked Local writes that "cattle eat the smooth bedstraw, which chokes up the taller grass that bobolink and other grassland birds like to nest in."
You can read that interview with Jesse Robertson-DuBois in SWL's story:
I wrote about the Meat CSA last year when CHF launched it. But for this year's updated details and pricing, you should look here.
**Stewards aren't presuming to know who is responsible or why. If you know anything about the vandalism, please contact the Southborough Police Department.