This Sunday, after you drop off your pumpkin for Light Up Southborough, you're invited to head over to the parish hall for St. Mark's Episcopal Church. The church is holding its 2nd annual Community Pasta Dinner.
The event begins at 5:30 pm. Light Up Southborough drop off ends at 6:00 pm and viewing begins at 7:00 pm. So the dinner is a perfect way to kill time between.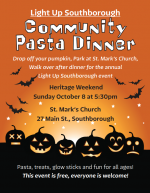 The free dinner is being provided by parish volunteers. All you have to bring is your appetite. (Though, if you feel like cooking, extra dishes are always welcome.)
You can also expect to enjoy chatting with neighbors and playing board games. For kids, the highlights may be after dinner treats and glow sticks.
The event is definitely rain or shine. I'm hoping for shine (or moonlight), but the rain that washed out the pumpkin viewing last year didn't dampen the 1st annual dinner. In fact, the church posted that about 100 people showed up for the pasta fest.
The community dinner is just one of the events planned for the day before Heritage Day. (Or should I call it Heritage Eve?) For more on Heritage Day and weekend events, click here.