Carnival-style games, fun photo booths, and the always-popular bake sale. You'll find it all at the Finn Fall Festival next week, November 3rd.
Your children don't need to be Finn students to attend. Fun is geared for preschoolers through early grades.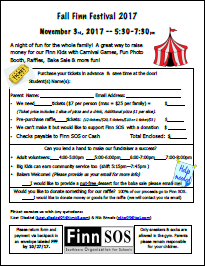 The fun starts at Finn School at 5:30 pm and runs until 7:30 pm.
Tickets are $7 each (max $25 per family), and include entertainment, a slice of pizza and a drink.
All proceeds benefit Finn SOS. And this year, the organization has more need for fundraising than usual. It is supporting efforts to replace the school's playground equipment. (Learn more about that, or contribute, here.)
One of the night's big money raisers is raffle ticket sales. (And it's no wonder with great prizes every year.)
Since it's an SOS fundraiser, you know there's also a scholastic book sale running that night.
Note: the Carnival Games take place in the gym, where only sneakers & socks are allowed.
Finn Families can send in their registration forms through backpacks this week. Tickets will also be sold at the door.