A reminder – the Southborough Gardeners club is holding its popular Guest Day tomorrow – Friday, November 10th. This year's event will spotlight bountiful arrangements for your Thanksgiving tables that don't use a cornucopia.
Maureen Christmas will demonstrate how to make floral designs "Beyond the Cornucopia". As in past years, some lucky winners will get to take the arrangements home.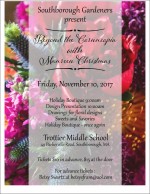 Guests will also enjoy the holiday tea. And you can get in some early holiday shopping at the annual boutique.
Before you head to the event, make sure you note the destination. Unlike past years, Guest Day will be held at Trottier Middle School.
(If you're wondering, why is it being held at a school on a school day? November 10th is the official holiday day off in honor of Veterans Day, which falls on Saturday this year.)
Below is the announcement with more details. I've also included some beautiful examples of the guest's work.
With the holiday season soon approaching, the Southborough Gardeners (SG) invites you to attend their annual November Guest Day! This year's program is entitled "Beyond the Cornucopia" by floral designer Maureen Christmas. It will be held on Friday, November 10th at Trottier Middle School, 49 Parkerville Rd. in Southborough.

The doors will open at 9:00 a.m. to enjoy a Holiday Boutique featuring numerous gift items handmade by the Southborough Gardeners. You will then experience a floral design presentation by Maureen Christmas beginning at 10:00. The morning will conclude with drawings for the floral designs, "revisiting" the Holiday Boutique, and enjoying a holiday tea featuring SG member-made tasty sweets and savories!

Tickets are $10 in advance and $15 at the door. Proceeds for this event will benefit town beautification and education. Please contact Betsy Swartz, the program chair, for further information or to purchase tickets: betsysfram@aol.com
On Maureen Christmas' from Facebook page she posted fall arrangements in past years. (To enlarge click thumbnails. For best results, wait for page to fully load before clicking.)