Assabet's Student Council is collecting gently used dress clothes and accessories. Organizers are setting up "Assabet's Closet".
The closet will be overseen by the school's Guidance Department. Counselors will allow students in need to choose items for use.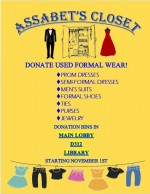 The group is collecting:
prom dresses
semi-formal dresses
men's suits
formal shoes
ties
purses
jewelry
After students are done "shopping", remaining items will be donated to the Metrowest Princess Boutique sponsored by the GFWC Marlborough Junior Woman's Club each year.
If you'd like to donate, you can send items in with an Assabet student. To drop off donations directly at the school, you may want to to call the school first (508-485-9430) or leave them at the security desk in the front of the building.