The Interboro Community Band will hold its winter concert this month. The program will include works from the concert band repertoire as well as a number of holiday season favorites.
The concert is Sunday, December 17th at 2:00 pm. This year, it will take place on the Algonquin school stage at 79 Bartlett St, Northborough.
The community is invited and, as always, admission is free. But, they will be holding a Bake Sale during intermission to support the self-funded organization. So, you may want to bring your wallet.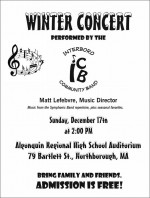 The community ensemble was first formed in 1992 by musicians from the surrounding boroughs under the direction of the late ARHS music teacher Dennis Wrenn.
It was continued as a program of the Southborough Recreation Department. But, more recently, the ICB became totally self-funded.
Comprised of a broad cross section of amateur and professional musicians, members can range from teens to seniors.
It currently boasts 38 members. And they are proud to be led this year again by Music Director, Matt Lefebvre from Westborough (the popular Music Director of the Westborough Community Band since 2008).
Updated (12/16/17 8:56 am): Removed the incorrect flyer. The information in the post is correct.
Updated (12/16/17 10:23 am): Inserted this year's flyer – I promise!
Updated (12/16/17 10:57 am): I got a message from the band letting me know that my description of it as under Southborough Rec was outdated. It now covers all its expenses (Insurance, ARHS facility fees, music director fees, music purchase, etc.) through individual band members' registration fees. "It was a big risk for us, but things seem to be turning out just fine!" (All the more reason to support their bake sale.)