I already posted earlier today about issues at the St. Mark's Golf Course. Residents who are really concerned about the project (especially abutters) will probably want to pay attention to work being done on the Conservation Restriction for the land.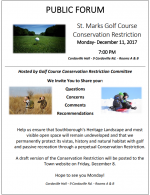 The committee charged with working on that is holding an open forum on Monday night:
The St. Marks Golf Course Conservation Restriction Committee will be hosting a public forum to discuss the creation of a Conservation Restriction to protect the St. Marks Golf Course.

This important document will ensure that Southborough's most visible open space will remain undeveloped so that current and future generations can continue to enjoy its vistas, history and natural habitat through golf and passive recreation. . .

Please join the Committee on Monday, December 11, 2017 at 7:00 PM in the Cordaville Hall meeting room (9 Cordaville Rd.) to learn about the Conservation Restriction and to share your ideas and concerns.
You can review the latest draft of the CR here.
As I noted in my earlier post, there is another meeting the same night related to that project. The Planning Board will be holding a public hearing on the Public Safety Building at 7:30 pm around the corner at the Town House.