If you need to sign your kids up for camps, clinics, or activities next week, you are almost out of time. So, here's a reminder of options available next week.
Southborough Recreation offers a half day camp that will help kids burn energy. The program covers grades K-5. There has been one small change since I originally shared this – the location. It will now be held at the Trottier Gym. As of this morning, only a handful of slots were left – and tomorrow is the reg deadline. So act quickly. (Scroll down for details.)
If that program doesn't work for your family there are some other local options. (Though, I haven't checked this morning to see if any of these have filled up since I originally posted about them.)
Neighboring towns offer options that cover more hours and/or grades. Southborough residents are allowed to take advantage. (Scroll down for details.)
Algonquin athletic teams are raising funds through two clinics next week. Check out these dedicated posts:
Chestnut Hill Farm is also offering a morning program for 7-10 year olds that you can read about here: Farmer for a Day (or three) over February break
In addition, you can find "vacation week camp" programs at area facilities. Some options include classes at Sew Studio in Southborough, half/full day camps at Ski Ward in Shrewsbury, and half day baseball acadamy at Hit Quarter's in Shrewsbury.
Have another great option to share? Post in the comments below.
Here are details on the Recreation camp offerings. Note: the Monday of that week is President's Day. So, each of these programs only covers Tuesday, February 20th – Friday, February 23:
Southborough Recreation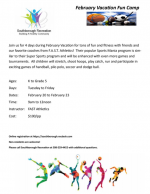 February Fun Camp:
Grades K-5. 9:00 am – noon at Woodward School Gym
Join us for 4 days during February Vacation for tons of fun and fitness with friends and our favorite coaches from F.A.S.T. Athletics! Their popular Sports Mania program is similar to their super sports program and will be enhanced with even more games and tournaments. All children will stretch, shoot hoops, play catch, run and participate in exciting games of handball, pillo polo, soccer and dodgeball.
$100/pp at Trottier Middle School Gym (ignore the outdated location in flyer right)
Click here to register or for more details.
Northborough Recreation
Recreation Fun Days program
Grades K-5. 8:00 am – 4:00 pm at their Town Hall Gym (63 Main Street, Northborough).
Gym games, sports games, arts and crafts, PG movie, Wii tournament, and more. Outdoor play when weather permits.
First child is $45, siblings $30 (Kids need to bring lunch and snacks)
Click here for more details and to register.
Framingham Recreation
Soccer Clinic
Ages 5 – 13. 9:00 am – noon at Barbieri Elementary School Gym (100 Dudley Road, Framingham)
This clinic is for players of all levels of the game! Emphasis will be on developing skills, communication, coordination, and having FUN! Run by Global Premier Soccer.
$103 per non-resident
Click here for more details and to register.
Supervision will be provided in between clinics for those children who choose to attend both. (Kids need to bring lunch.)
Athletic Games Clinic
Ages 5 – 13 yrs. 12:30 – 3:00 pm at Barbieri Elementary School Gym (100 Dudley Road, Framingham)
Playing athletic games from all over the world such as Castle Ball, Gaga, Kinball, Capture the Flag Universe, and Guards. Traditional games such as Kickball and Basketball will also be played. Run by Knucklebones staff.
$98 per non-resident
Click here for more details and to register.
Updated (2/17/18 8:45 am) I inserted information on Chestnut Hill Farm's camp.