The Southborough Library is launching a Scratch Coding Club for 3rd to 5th graders this Saturday. Space is limited, but there are still a few spots left (as of yesterday). Sign up quickly to take part in this round of sessions.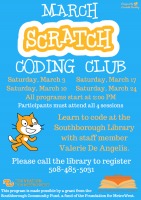 The "club" will teach kids coding skills over the course of four weeks. Each week builds on prior week's learning. So participants are expected to attend each session, 2:00 – 3:30 pm on Saturdays, March 3 – 24. (Perfect timing for the break between winter and spring sports!)
To sign up, call the Southborough Library at 508-485-5031.
If you don't snag one of the last few spots – another chance is coming up this spring. The program will be offered again May 5th – June 2nd (with a break for Memorial Day weekend).
So, what is "Scratch"? It's an introductory coding program designed and maintained by the Lifelong Kindergarten group at the MIT Media Lab.
The Scratch website explains to parents:
Scratch is a programming language and an online community where children can program and share interactive media such as stories, games, and animation with people from all over the world. As children create with Scratch, they learn to think creatively, work collaboratively, and reason systematically.
Still confused? Check out this overview video:

The Library's pilot program is funded by a grant from the Southborough Community Fund, a fund of the Foundation for MetroWest, and supplemental funding by The Friends of the Southborough Library.