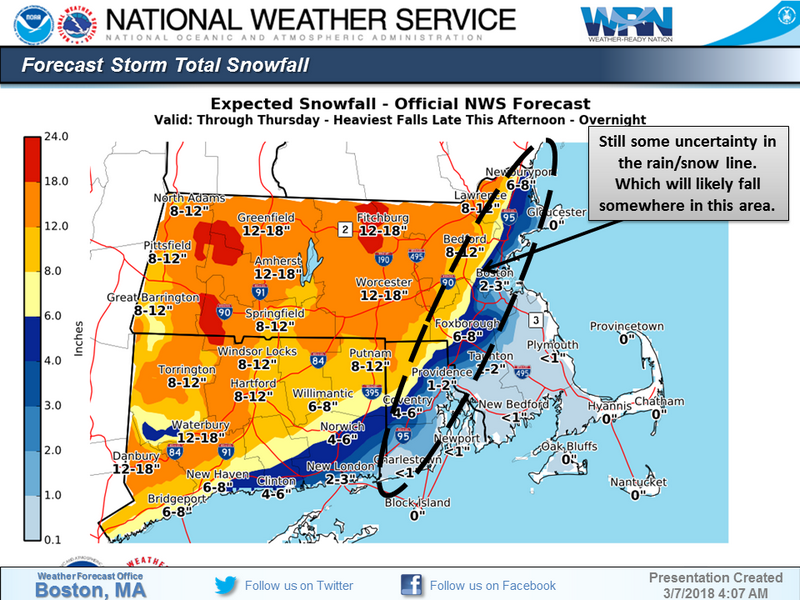 As you must know by now, another Nor'easter is headed to our state. This one is forecast to have a much bigger impact on our town. Given the high likelihood for change from yesterday's forecast. I held off until this morning to share forecasts from the National Weather Service.
As of this morning, they are forecasting 12-18″ of snow to hit Southborough. There is some uncertainty in the forecast, but confidence has increased for our region since yesterday afternoon. (Yesterday, the forecast for our town was just 6-12, and we were in the band of "uncertainty" for rain vs snow.)
Rain is forecast in the mix and even when the snow falls, temps are predicted as mainly just over the freezing mark. So, expect some messiness this afternoon. (Which is why, as I previously posted, public school is being released early today.)
The heaviest snowfall isn't expected until around evening time. At their peak, sustained winds are expected to reach 15-20 mph with gusts at 30-35 mph.
Scroll down for more forecast maps and hourly details from NWS' Facebook page and website.
So far, no other notices have been made for early closings of Town facilities. If those happen, I'll update this post.
It's worth noting that unless the schools run into an "educational hours" issue, today's early dismissal won't push summer vacation further out. Southborough's last day of public school is still currently planned for Wednesday, June 20th.
Now, here are NWS' maps and details (click to enlarge):
Updated (3/7/18 8:58 am): The storm and early release means that the MAJE Festival scheduled to take place at Algonquin this afternoon is pushed to the snow date – tomorrow, Thursday, March 8th. According to the Northboro Southborough Music Association, if Algonquin does not have school on Thursday, then the festival will be moved to Monday (March 12th) with the same schedule.
Updated (3/7/18 1:45 pm): The Southborough Library closed early. The Library also posted cancellation of the Author Night program that was scheduled for Thursday evening.