Fay School and the Southborough Senior Center would like to engage seniors in another intergenerational program. This one gets a jump on poetry month by a few days.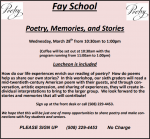 On March 28th, seniors are invited to take part in an exploration of "Poetry, Memories, and Stories".
How do our life experiences enrich our reading of poetry? How do poems help us share our own stories?

In this workshop, Fay School sixth graders will read a mid-twentieth-century American poem with their guests, and through conversation, artistic expression, and sharing of experiences, they will create individual interpretations to bring to the larger group. We look forward to the stories and memories that all will contribute!
The event begins at 10:30 am with coffee. The discussion begins at 11:00 am, runs to 1:00 pm and includes lunch.
Sign up at the Senior Center's front desk or call 508-229-4453.