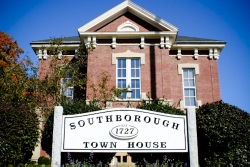 Here is a selection of the committee and board meetings for the week along with my selected highlights from the agendas. All these meetings are open to the public, so you're welcome to stop on by.
Editor's Note: Ironically, the combined school committees will convene 30 minutes earlier than previously posted to discuss issues related to starting school later. The meeting is at 6:00 pm on Wed, not 6:30 pm.
Of course, as I always post – be aware that changes to the meeting schedule are known to happen throughout the week. For an updated list of meetings, visit the town website.
Monday, March 19, 2018
Pre-Qualification Subcommittee, 6:55 pm @ Hearing Room, Town House, 17 Common St (agenda)
Public Safety Building Committee, 7:00 pm @ Hearing Room, Town House, 17 Common St (agenda) Agenda Highlights: Updates on Bid process and Solar Canopies; discuss (and possible vote on) Clerk of the Works – Broadcast live and replayed by SAM*
Historical Commission, 7:00 pm @ Historical Society Museum, 25 Common St (agenda) Agenda Highlights: Discuss 135 Deerfoot Rd and 33 Main St, Discuss review of Chapter 61 properties
Tuesday, March 20, 2018
Trottier School Council, 2:30 pm @ Trottier Middle School, Room 190, 49 Parkerville Rd (agenda)
Board of Trustees Southborough Library, 6:00 pm @ Southborough Library, Eaton Room, 25 Main St (agenda) Agenda Highlights: Status review of FY18 action plans
Board of Selectmen, 6:00 pm @ Hearing Room, Town House, 17 Common St (agenda with packet) Agenda Highlights: Open Meeting Law Complaints, Annual Town Meeting review with Moderator, Hearing on car sales license for Southboro Auto Tech Inc – Broadcast live and replayed by SAM*
Recreation Commission, 7:30 pm @ Recreation Office, South Union Building, 21 Highland St (agenda) Agenda Highlights: Capital plan – prep for 3/26 forum; Chapter 61 proposed schedule
Wednesday, March 21, 2018
Combined School Committee Meeting, 6:00 pm @ Algonquin Regional High School Library, 79 Bartlett St (agenda) Agenda Highlights: School start time presentation; second readings of new policies on "Religious Observance" and "Substance Use Prevention and Education"; Solar Feasibility status – Broadcast live by NCAT**
Southborough Housing Authority, 6:30 pm @ Colonial Gardens, 49 Boston Rd (agenda)
Regional School Committee Meeting, 7:00 pm @ Algonquin Regional High School Library, 79 Bartlett St (agenda) Agenda Highlights: FY19 budget; safe school readiness; presentations by Guidance and English depts – Broadcast live by NCAT**
Thursday, March 22, 2018
Conservation Commission, 6:30 pm @ Hearing Room, Town House, 17 Common St (agenda) Agenda Highlights: Request for extension of order of conditions for 2 East Main St (originally granted in 2005); Updates on 84 Main St and Park Central
*Southborough Access Media will broadcast the Public Safety Building and BOS meetings live on Verizon-37 and Charter-192. Click here to see this week's schedule with rebroadcast times. (Videos are also usually made available through their YouTube channel by the following morning.)
**Northborough Cable Access Television will live broadcast the meeting on Verizon-29 and Charter-194. (Note: The meeting will eventually be rebroadcast. But expect to wait several days before a time and link are posted to NCAT's schedule.)