Southborough Recreation is again offering a phys ed program to help children with disabilities have active fun. To make it work, they are also looking for volunteer buddies to help out.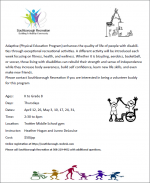 The Adaptive PEP class is for children in grades K-8 with special needs:
Adaptive (Physical Education Program) enhances the quality of life of people with disabilities through exceptional recreational activities. A different activity will be introduced each week focusing on fitness, health, and wellness. Whether it is bicycling, aerobics, basketball, or soccer, those living with disabilities can rebuild their strength and sense of independence while they increase body awareness, build self confidence, learn new life skills, and even make new friends.
The $50 class will be offered on Thursday afternoons, 2:30 – 4:00 pm in the Trottier Middle School gym. It will run from April 12 – May 31st (except for spring, 4/19).
If you are interested in registering, you can click here to sign up.
If you have questions or are interested in volunteering, please contact Southborough Recreation at 508‐229‐4452.