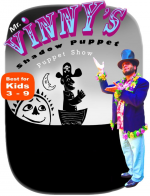 Next week is Spring Break in Southborough. For those of you who aren't hitting the road, the Southborough Library is offering some entertainment.
On Tuesday, April 17th from 3:00 – 4:00 pm, puppeteer Mr. Vinny will entertain. This time, he'll be using shadow puppets.
Mr. Vinny's Little Puppet puppet show is is geared to 3-9 year olds. But all ages are welcome and no registration required.