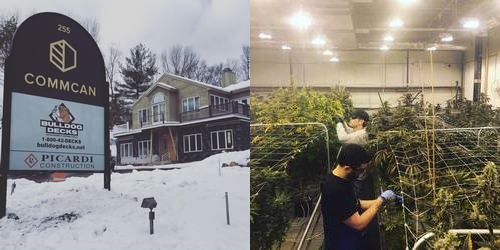 A Southborough Wicked Local story alerted me that CommCan is on track to open its Southborough medical marijuana dispensary soon. Owners are still targeting this June as their goal.
To that end, they will be holding a Job info night this coming Wednesday, May 2nd at the Community House.
On Facebook, CommCan clarified that the info session is held in Southborough to encourage residents to apply as part of their commitment to the Town. But it is not restricted to residents only. The agreement the company signed with selectmen promises:
Operator commits to hiring local, qualified employees to the extent consistent with the law and the availability of qualified applicants.
Alternatively, interested candidates can email a resume and cover letter to info@commcan.com. (But there is no online listing of job qualifications that I can find. So attending the session appears to be your best bet.)
SWL writes:
The Commonwealth Cannabis Co., also known as CommCan, is set to open in June.

CEO Marc Rosenfeld is hosting a job information night from 7-9 p.m. next Wednesday at the Southborough Community House, 28 Main St. He said the question and answer session is to fulfill a commitment during the application process to give Southborough residents an opportunity for employment. Positions include dispensary associates, order fulfillment and security. . .

"We'll have product ready. We'll have the shop ready," he said. "We hired staff already, but we need more." . .

The company received its final certificate of registration by the Department of Public Health for its Southborough location, but still needs approval to sell once renovations are complete.
You can read the full SWL story here.
The facility is one of three dispensary sites CommCan has in the state. CommCan describes their business on their website:
Dedicated to bringing world-class cannabis products to Massachusetts, CommCan is the Commonwealth's true "home-grown" cannabis company. CommCan is 100% owned and operated by native Massachusetts residents without any outside consultants, investors or management companies which is why when we say "MADE IN MASSACHUSETTS" – we mean it.
Selectmen's 2016 decision not to oppose the Southborough dispensary location was controversial. It is sited less than 1,000 feet from Neary School, but met the bylaw requirement of 500 feet. Voters amended the law subsequently to create a 1,000 foot buffer but were told it couldn't apply retroactively to the approval granted to the dispensary by the Zoning Board of Appeals prior to the Town Meeting.
The Southborough site is limited to dispensing medical marijuana. The company's cultivation center is based in Medway. And voters banned recreational dispensaries and related businesses from operating in Town.
For more past coverage of the dispensary, click here.