Town officials targeted having shovels in the ground this spring for Southborough's two major construction projects. For the Public Safety Building, it appears that today's the day.
The groundbreaking ceremony is scheduled for 4:00 pm today at The Southborough Golf Club (a.k.a. St. Mark's Golf Course), 32 Cordaville Road.
The Town is planning a "short program. . . followed by light refreshments". The public is welcome.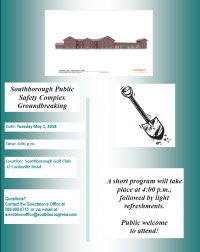 I've been told that if the golf course parking lot fills up, residents are encouraged to park at the cemetery across the street and cross over.
(I assume that if that's necessary, at least one of the police officers sure to be in attendance will help make the crossing safe!)
Anyone with questions can contact the selectmen's office at 508-485-0710 or via e-mail at selectmenoffice@southboroughma.com.