SOS is holding a special information night on Monday. It's a chance to learn more about parent-run Southborough Organization for Schools.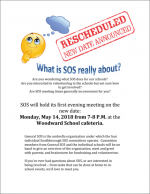 The SOS supports our K-8 public schools through fundraising and volunteerism. Each school has its own subcommittee, and members will be on hand from each:
Committee members from General SOS and the individual schools will be on hand to give an overview of the organization, meet and greet with parents, and brainstorm for fundraising and volunteerism.
The night will highlight opportunities to pitch in. There are all kinds of roles, depending on your interest. They include in-school opportunities, working from home on their own schedules, and group efforts that can be social.
The meeting will be held in the Woodward School cafeteria (28 Cordaville Road) on Monday, May 14, 2018 from 7:00 – 8:00 pm. In the meantime, you can learn more about SOS on its website.
(This meeting was originally announced for March 28th but rescheduled due to a conflict with a school function)