At next Tuesday night's Special Town Meeting, voters will decide whether or not to change the schedule for Annual Town Meetings. A Citizens Petition asks voters to change the timing of the Meeting's opening to a Saturday at 1:00 pm in March.
The petition is being brought by some of the same residents behind an Article request for funding Kallander Field repairs. According to organizer Kristen Lavault, that's not a coincidence.
Lavault said that the dropoff before the late night vote on Kallander Field at Annual Town Meeting was 105 voters. According to the Recreation Commission Co-Chair, a lot of supporters had to leave because of children. (That includes relieving babysitters and taking home children that used the Town's free babysitting service.)
What's also not a coincidence is the choice to change the month. Lavault said that many Towns choose March as between sporting seasons. (Clearly, an important criteria for a group of voters that supports recreation projects.)
But she pointed out that young families aren't the only ones impacted by the often late-into-the-night meetings. Some voters can't drive at night.
Looking at moving the day of Town Meetings was one of the issues recently researched by the Town Meeting Review Committee. They reported that similar Towns that hold meetings on Saturdays have higher turnouts. However, members didn't recommend jumping into the change.
With survey responses that left them unsure of voters' interest in that change, the report released earlier this spring proposed experimenting by holding the next Special Town Meeting on a Saturday.
That didn't happen. Which means that the Article for a bigger change is likely to take place when the fewest voters who care about the change can be there – late on weeknight. The Article is the last on the agenda, and follows four sure-to-be-controversial Articles.
Article 5 asks voters to replace the section on Date and Time of ATM in the Town Code bylaws (41-1) with:
The Annual Town Meeting for the consideration of all business, other than the election of Town Officers or other matters to be determined by ballot, shall be held during the week in March designated by the Selectmen as "Town Meeting Week ". The meeting shall be held on a Saturday commencing at 1:00 p.m. and recessed not later than 5:00p.m.

In the event that all articles in the warrant have not been acted on, the meeting shall reconvene at 7:00 p.m. on that Saturday, and recess no later than 11:00 p.m. If all articles are not acted on by that time, adjournment of the session shall be to the following Monday night at 7:00 p.m. and then to each succeeding night at 7:00 p.m. until completion of the warrant.

In the event that all articles in the warrant have not been acted on by the end of the Thursday night session, the meeting shall stand adjourned to a time and date agreeable to the meeting. In the event of a secular or other holiday during the Town Meeting Week, that session shall be adjourned to the next night that shall be agreeable to the meeting by majority vote.
The current code simply specifies the start of the meeting as the second Monday of April at 7:00 pm. It doesn't specify the timing of the meeting close and continuation to subsequent dates. Town Meeting Rules refer to 11:00 pm for adjournment unless voted otherwise. The choice of when to continue the meeting to appears to be tradition, since I can't find it in the code or rules. (Traditionally, it continues to 7:30 the following night. If a third night is necessary, that is Thursday night at 7:30.)
Last night, Lavault acknowledged that the Article would still result in some Articles being voted on at night. She responded that there is no perfect schedule. And at least (for that first night) it would be on a Saturday. (I would imagine that more babysitters are available to stay late on Saturday.)
Now here's a bit more background on the issue and the TMRC's findings:
How to increase TM participation has been a matter of much debate in past blog comments. Moving the day to Saturday generally comes up as a possible improvement.
In 2016, the Town appointed the TMRC to study best practices of other Towns and solicit feedback from residents. Adjusting the schedule was one of the options targeted for study.
As for TMRC's choice not to support a move to Saturday, it appears to be based on inability to assert that higher turnouts elsewhere was based on preference rather than convenience.

The TMRC had studied at attendance in 2013-15 in 90 towns with Open Town Meetings and similar municipal governments. They also honed in on 43 towns with populations from 5,000 – 15,000. The results showed that close to 8% of voters from that group showed up on Saturday meetings in small towns, vs just over 4% on Mondays.
The committee analyzed in its report:
Studying data from other towns, attendance is markedly higher on when TM is held on Saturday. However, that may not necessarily be an indicator of day preference as the resident survey indicates. It may be that data shows higher attendance at Saturday meetings because voters tend to be home, therefore more convenient to attend.
The survey referenced was the committee's survey soliciting residents feedback on Town Meeting. 248 people responded (including 10% who said they never attend Town Meetings.)
43% of participants answered that they would support moving it to a weekend. In an earlier question on preferred day of the week Saturday appears to have come in 2nd place for their most preferred day with weekdays in 1st and third places:
Tuesday – 58 votes
Saturday – 48 votes
Monday – 44
Sunday – 19
Wednesday – 17
Thursday – 5
Friday – 5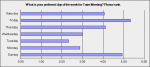 I was confused as to why, the report then referred to residents having a preference for weekdays. So I reached out to the committee. They shared a chart which shows that Saturday averaged out as participants' fourth choice.
You can view the full TMRC report here. You can see the STM Warrant here.
So, what do you think? Would you be more or less likely to attend a meeting on Saturday afternoon in March?
Updated (5/17/18 5:50 pm): I accidentally wrote that May 22nd is on Wednesday. The STM is on Tuesday, May 22nd.