On Tuesday, May 22nd, Assabet Valley Regional Technical High School is hosting a special movie and lunch. The Meet Me at the Movies event is part of the school's Dementia Friendly initiative.
They are inviting all area residents with memory loss, and their friends, family members and caregivers to a free, fun interactive film program. Seating begins at 9:30 am for the 10:00 am program in the school auditorium.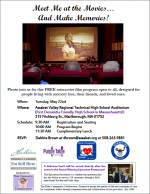 The movie is followed by an 11:30 am lunch in the school restaurant, the Epicurean Room. The restaurant has been officially certified as "Purple Table".
I was unfamiliar with the term, so I looked it up. Purple Table Reservations explains:
The Purple Table Reservation flag and restaurant training program are designed for those who are living with Dementia/Alzheimer's Disease, Autism, PTSD, TBI, a hearing or vision impairment, or other physical or cognitive condition that may benefit from a more predictable environment and additional accommodations when dining out.
The school's culinary program isn't the only one tackling dementia-related issues. According to an AVRTHS representative:
The education of all shops on becoming Dementia Friendly is now a part of the Health Technology curriculum. The HT students are in their second year of presentations to all the vocational shops.
To register, contact Debbie Brown at dbrown@assabet.org or 508-263-9881.
The Tuesday event is sponsored by the Elder Community Collaborative with assistance from The Assabet Practical Nurse Program; and high school programs, Health Tech and Culinary.
According to the flyer, Assabet has some bragging rights here as the first Dementia Friendly high school in the state.
For more details (and sponsors) see the flyer above right.