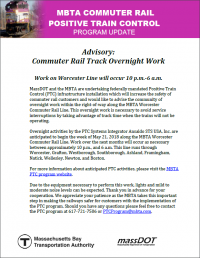 As part of a required infrastructure upgrade to the MBTA, the state will be working on the Commuter Rail line at nights. Work on the Worcester line is anticipated to start this week. The dates impacting our Town aren't clear.
The announcement from the MBTA updates that work is slated to take place on the rails from 10:00 pm to 6:00 am.
It was scheduled to begin the week of May 21st. Nearby residents will likely be impacted with a worning that "lights and mild to moderate noise levels can be expected".
I followed up with MassDOT to try to get more information, given questions that came up under a prior post on the project's impact on weekend schedules. I was informed that WIFI tower installation is not part of this effort.
This project is specific to the Positive Train Control system that was mandated by the federal government for safety reasons. The PTC system is intended to avoid crashes and accidents that have caused fatalities in other parts of the country.
Here is the notice:
MassDOT and the MBTA are undertaking federally mandated Positive Train Control (PTC) infrastructure installation which will increase the safety of commuter rail customers and would like to advise the community of overnight work within the right-of-way along the MBTA Worcester Commuter Rail Line. This overnight work is necessary to avoid service interruptions by taking advantage of track time when the trains will not be operating.

Overnight activities by the PTC Systems Integrator Ansaldo STS USA, Inc. are anticipated to begin the week of May 21, 2018 along the MBTA Worcester Commuter Rail Line. Work over the next months will occur as necessary between approximately 10 p.m., and 6 a.m. This line runs through Worcester, Grafton, Westborough, Southborough, Ashland, Framingham, Natick, Wellesley, Newton, and Boston.

For more information about anticipated PTC activities, please visit the MBTA PTC program website.

Due to the equipment necessary to perform this work, lights and mild to moderate noise levels can be expected. Thank you in advance for your cooperation. We appreciate your patience as the MBTA takes this important step in making the railways safer for customers with the implementation of the PTC program. Should you have any questions please feel free to contact the PTC program at 617-721-7506 or PTCProgram@mbta.com.