Southborough Little League is holding a Movie Night in two weeks. The public is invited to join them.
The event is on Saturday, June 9th at the Mooney Field complex (Baseball fields at Finn School).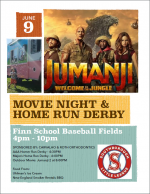 The fun begins at 3:00 pm with:
Bounce Houses
Radar Gun Station
Home Run Derbies (AAA at 4:30 and Majors at 6:00)
At 8:00 pm, the movie Jumanji will be projected on the big screen.
During the event, you can buy BBQ dinner (via New England Smoker Rentals) and dessert from Uhlman's Ice Cream.
The festivities are sponsored by Carvalho & Roth Orthodontics.