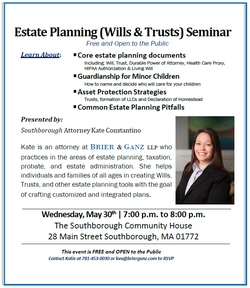 [The following information was provided by My Southborough sponsor Kate Constantino of BRIER & GANZ LLP.]
Southborough attorney Kate Constantino is presenting a free estate planning seminar, tomorrow night – Wednesday, May 30 – at the Southborough Community House from 7PM-8PM.
Now that you've filed your tax returns, it's a good time to start thinking about your estate plan. It may be no surprise that setting up an estate plan or writing a Will is not at the top of everyone's to-do list. For many, it's because the topic of death is scary and easy to put off. For others, it's because they've had no insight into how carefully crafted estate planning documents can provide a benefit to their family and loved ones — saving time, angst, and money in the long-run.
This session will cover the following topics:
What is an estate and do I have one?
How do I go about naming Guardians for my children?
Would a trust benefit me or my family?
Will my family need to pay taxes at my death?
Do I have everything in place to make it easier on my loved ones should something happen to me?
Feel free to come prepared with your questions as the presentation will be followed by a Q&A period.
Please contact Katie at kva@brierganz.com or 781-453-0030 to reserve your spot. Feel free to e-mail Katie your questions in advance and she will make sure Kate will cover them.
Kate is an attorney at BRIER & GANZ LLP who practices in the areas of estate planning, taxation, probate, and estate administration. She helps individuals and families of all ages in creating Wills, Trusts, and other estate planning tools with the goal of crafting customized and integrated plans.
Find out more about Kate's practice at Brier & Ganz at: https://brierganz.com/kate-l-constantino/