I know it doesn't feel like summer now, but the warm weather that visited last week should be back soon. So, some senior readers may want to put their names in to take advantage of the Senior Center's boating program.

For the third summer Southborough Senior Center purchased a special pass for seniors to enjoy boating at Hopkinton State Park on Tuesday mornings.
For almost free, seniors can paddle around with a kayak, paddle board, canoe and/or rowboat. Or pedal boat around the lake. The program covers life jackets, paddles, cushions and a safety demo.
The only fee for the weekly event is a suggested donation to the Senior Center for $3 per day (paid at the Senior Center in advance). There are two other minor catches.
The first is that since this is "in season", the state charges for entry to the park. But seniors can buy a lifetime parking pass for just $10. (Or you could borrow a Mass State Park pass from the library for the day.)
The second catch is that only eight people can enjoy the pass each Tuesday morning. So, sign up in advance. If next week is full, don't fret. Opportunities continue weekly through August!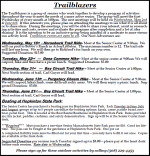 To register, call 508-229‐4453 or stop by the Senior Center's front desk. Then meet up with the group on your designated Tuesday(s) at 10:00 am by the park's Boat House.
The summer boating program is just one of the Senior Trailblazer's initiatives this spring/summer. (For more details, see flyer right.) The group meets monthly to plan events for active seniors in town. If you are interested in joining the planning group, contact the center.