Over the weekend, Southborough Emergency Management shared some information based on forecasts of extreme temperatures today. The National Weather Service is predicting a high of about 95° in Southborough today with the heat index peaking at about 100°.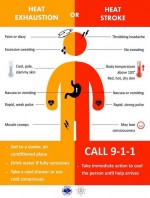 SEMA passed along a warning about dangers for heat exhastion or heat stroke. You can click the thumbnail right for symptoms and what to do.
So far, the severe thunderstorm warnings for New England this afternoon have a low likelihood of impacting Southborough, though we should expect a little rain.
You can click on the image below for forecast details.
If you don't have A/C in your home, remember there are free open places to chill out during the mid-afternoon peak temperatures. Seniors can hang out at the Southborough Senior Center and anyone can cool off with a good book at the Southborough Library today from 10:00 am – 5:00 pm.
Actually – "chill" and "cool" are probably an exaggerations. I can't promise those buildings will actually be cool at today's peak. Their systems may be on overdrive this afternoon. But they should at least offer safe temperatures! And, thankfully, this isn't the start of a heat wave. Tomorrow, the temperatures should be back down to a high of about 80°.