In working on an overdue update on road projects, I discovered an item that slipped under my radar two weeks ago. Selectmen approved $1.2M in spending to extend the Main St Reconstruction project to the Downtown Business Village and make other connected improvements.
That's part of five project updates I'm rounding up on what's happening on Main Street and intersecting roads near downtown:
Main St Project delay and effects
Project extension through Chapter 90 funds (Downtown reconstruction and sidewalks on Cordaville and Newton)
Beautification of St. Mark's St intersection
Utility Construction on Rt 85 from Main St to new Public Safety Building
Talk of undergrounding utilies may rise up again (prompted by Hopkinton Town Meeting vote)
Most of these items stem from requests and updates made by Public Works Department Superintendent Karen Galligan to the Board of Selectmen at their June 7th meeting.
[Editor's Note: If you need a refresher on what Chapter 90 and TIP mean, scroll to the bottom of the post.]*
Main St Project delay and effects
Galligan told the board not to expect work on the TIP project to begin before November. (Between the lines, even November seemed unlikely for actual shovels in the ground.) She explained that there was a silver lining in the delay. She believes the Town will be given enough notice that she can create a Gantt Chart to keep the public informed about what, where, and when project work will be happening.
She also warned that while work is being done, Main St may look "horrifying" for a while. (You can read more about the updated timeline in Southborough Wicked Local.)
Project extension through Chapter 90 funds
(Downtown reconstruction and sidewalks on Cordaville and Newton)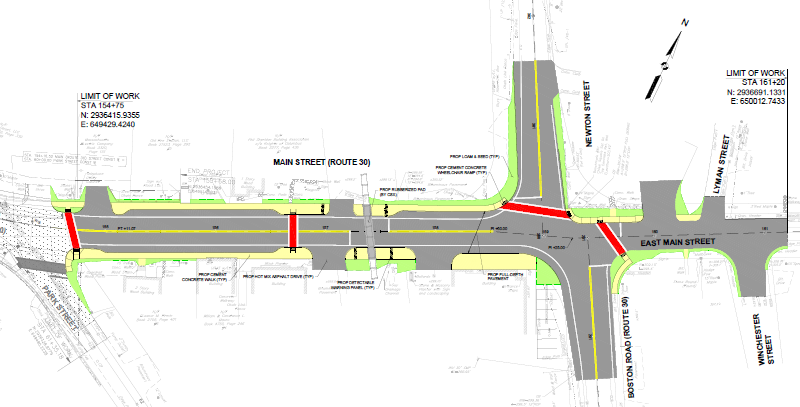 Both proponents and opponents of the Main St Reconstruction project have lamented that it couldn't cover the "crumbling" Downtown Business Village. So, it's surprising that selectmen approved a spend to fix that with zero fanfare. (In fact, there wasn't a verbal reference or agenda highlight.)
The June 7th agenda listed multiple items for potential vote under Galligan's name. That included "Chapter 90 request for project approvals". The DPW chief explained some of her requests, but made no mention of that one. Selectmen vaguely approved "her items".** The publicly posted packet for the meeting included a memo explaining that it included $1.2M for work "used in conjunction with other Chapter 90 monies that have been allocated for Main Street."
It will bridge the gap from the east end of the TIP project (Park St) to Boston Road. Less of a surprise is the Town's extension of the sidewalk on Cordaville to continue down to the rural cemetery.***
I followed up with Galligan who confirmed that she considered the ask approved. She describes the downtown reconstruction will cover the from the TIP project's end at Park St to Boston Road.
Galligan told me the new approval will also continue a sidewalk down to and around the corner of Newton Street to the medical center. That is not indicated in the plans that she shared. But plans indicate that work may continue down East Main, including the Winchester Street intersection. The Town is also working on getting CSX to improve the railroad crossing on Main St.
She described to me a project that will be an improvement, but not a big change:
Work will include drainage, sidewalk and road improvements from the end of the TIP project to Boston Road. . .

There's not much that can be done within the right of way in the downtown, so when the work is done it won't look very different than what is there. The width isn't changing, everything is just getting replaced with the same materials as the Main Street project. So what people will notice will be that the concrete sidewalks will be replaced, the asphalt sidewalks will be concrete sidewalks, there will be new pavement and the crosswalks will be the epoxy brick and the wheelchair ramps will be formalized.
In response to my questions about public involvement, Galligan indicated that she believed that is done. Public Works Planning Board invited in all of the downtown business owners to a meeting where they reviewed the concept plans. She is treating the project "more like a regular road paving project". Direct abutters were notified, so she won't be seeking more public input.
At this week's meeting, selectmen will consider revising the charge for the Main Street Reconstruction Working Group. Town Administrator Mark Purple confirmed that whether or not the new work should be covered by that group will be discussed.
Galligan posted the concept plans for downtown to the Town's website today. Click here for Colored Concept Plan and here for the full plan set. Galligan said that she still needs to send the new information to Mass DOT.
St. Mark's Street intersection beautification
Southborough is giving St. Mark's School the right to beautify the northern corner of the intersection of Marlborough Road and St. Mark's Street. According to Galligan, the school will receive a license allowing them to do the work and maintain it. The Town will continue to own the land.
Plans shared with selectmen showed that a stone wall will be built close enough to the road to prohibit parking on the grass. But selectmen were assured that enough room has been left to allow for a future sidewalk if ever needed. Selectman Brian Shea asked where parking will go. A Business Manager from the school responeded that it currently allows 10-12 cars. He assured that the school's parking across the way is enough to allow for that. He also pointed to the area on the south side of St. Mark's Street as a place where people park.
Below are pictures from the plans – contrasted with current/recent conditions from Google Maps. I also included a pic of the spot where parking will continue to be allowed:
Utility Construction on Rt 85 from Main St to new Public Safety Building
The Town is warning that the Gas company will be installing a gas main from Main Street south on Route 85 to the construction site for the new Public Safety Complex beginning Jun 26th.
For the same road section, Galligan got approval for Public Works to lay down it's water main overnight in a few weeks. It will be one night-time shift in July from 8:00 pm – 4:00 am. The targeted night is Monday, July 9th with follow up day time work on Wednesday, July 11th. Area residents whose water will be turned off will be notified.
Talk of undergrounding utilies may rise up again
Speaking of laying utility lines underground. . . In the past, David Parry unsuccessfully lobbied for the Town to underground power and cable/internet lines along Main St. Local news may be prompting him to raise the issue again.
Years ago, Parry pushed for undergrounding of utitilites, but was told that the price tag was too high – with an estimate of about $8M bandied about. Last year, he pushed an alternative to relocate the utility poles behind Main St. Selectmen rejected that plan. The final straw was a communication by a National Grid manager that purported:
The distribution line that currently exists on Main Street is a main distribution feeder for Southborough and other towns as well. The reliability of this feeder is a main concern of National Grid and relocating our equipment off the public way would compromise our ability to maintain our facilities in a timely manner.
Town officials had also worried that it would delay/derail the project which had been slated to begin in February/March of this year. But now the project is already delayed. And it's not far fetched to think it won't begin until next spring.
It looks like a recent vote by Hopkinton Town Meeting has prompted Parry to look at the issue again.
I received a note from him over the weekend. He was looking for follow up on Hopkinton Town Meeting's approval to fund items not covered by the state for their Main St Corridor Project. Undergrounding of utitilities was just one aspect covered by the $3M budget:
in connection with design, construction services, professional services, undergrounding of utilities and associated work, installation of street lighting, landscaping and street furniture, acquisition of easements, and police details related to the Main Street Corridor Project
Parry's note to me indicates that the voter approved funds covered the gap between the state funding and Town costs. It's likely accurate, but without more context – it may mislead.
According to a presentation posted for voters by Town officials, the gap between the total project cost and the state TIP funding was double the approved borrowing. Hopkinton voters were given a total project estimate of $14M. But only $8M of that was eligible for TIP funding.
The Town presented that $3M of that funding was available in place through something referred to as HCA's. (Given the Article's language, that may refer to Chapter 90 funds.) Voters were approving covering the other half of the gap.
At the time voters approved the Southborough project (fall 2016), it was estimated as a $7M project fully funded by the state TIP. There was acknowledgement that the Town may choose to spend additional money (possibly from Chapter 90 funds) on above standard sidewalks, crosswalks, etc.
*Editor's Note: If you've closely followed the Main St project discussions over the years, you are probably familiar with TIP and Chapter 90 by now. But many readers may not be familiar with the jargon commonly used by Town officials.
TIP = the partially state funded projects under the Mass DOT (Department of Transportation) Transportation Improvement Plan
Chapter 90 funds are apportioned to the Town by the state to reimburse expenses for approved projects such as "Capital Improvement Projects for Highway Construction, Preservation and Improvement Projects that create or extend the life of Capital Facilities".
**The board's June 7th vote followed a loosely worded motion by then-Chair Dan Kolenda, "Any further questions on any of her items? All in favor?"
***The MassDOT reconstruction project ends at about 5 Cordaville Road. Plans presented to voters who approved the project noted that the Town would extend the sidewalk as far as the current sidewalk already goes – to and past the Senior Center to the north driveway for the cemetery.