Highland Street Foundation is offering Free Fun Fridays at area museums again this summer. They'll be offering 100 chances to visit museums, parks, and theaters for free over the ten Fridays this week through the end of August.
Each week includes great choices within reasonable driving distance. (Plus, some that may make more sense if you're enjoying a week or long weekend in another part of the state.)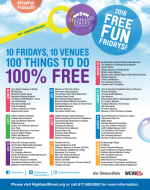 Some great examples over the next four weeks are:
A performance of The Wiz and a backstage tour at Lyric Stage this Friday
New England Quilting Museum in Lowell – exhibiting Quilted Canvas II (featuring innovative and influential contemporary artists) and the Migrant Quilt Project (a headline making exhibit)
Edward M. Kennedy Institute – participate in a simulated Senate session and a live floor debate and vote
The Gardens at Elm Bank – historic and contemporary gardens on Mass Horitculture's 36 acre property
The flyer above right is just a schedule overview. Sometimes the website offers a specific description of the day's event. It always provides links to the venue websites.
Click here to visit the website, then scroll down to click on a date for more details.
(Of course, you may also want to explore options for any day of the week. Don't forget the Southborough Library's pass program for discount or free admissions.)