The Unholy Mackerels will play the third Southborough Summer Concert this season. That is scheduled to take place this Thursday, July 12th.
The free, family-friendly concert takes place at the Neary School fields (53 Parkerville Road) from 6:00 – 8:00 pm. As always, the concert is on the lawn. So, bring blankets/chairs, and bug spray.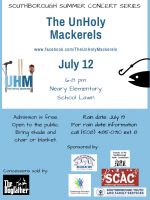 Families are encouraged to enjoy dinner on the lawn. You can bring your own picnic. But you can also buy from food vendors at each event. This session features The Dogfather – with its food truck and an "ice cream cart".*
Again, since it's a concert, you'll want to know what you can expect to hear. Next week's band describes itself as:
a multi-piece band playing a wide variety of songs from a number of genres that include pop, classic rock, bluegrass, contemporary hits, and more. The core players include: Paul Chambers (vocals and guitar), Joanna Miller (vocals and fiddle), Bob Oakley (bass and vocals), Phil Bonomo (drums and vocals), and Josh Albright (accordion, keyboards, harmonica, mandolin, lapsteel, guitar, and vocals).
I always say the music speaks louder than words. So, here's a video showing a sampling of the band's performance at a 2016 event: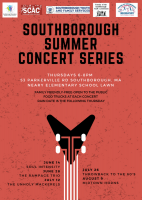 The music series is again run by Southborough Youth & Family Services and the Recreation Department. It is also co-sponsored by: Friends of Southborough Youth Commission, Southborough Cultural Arts Commission, and Friends of Southborough Recreation.
Two more headline acts are scheduled for this summer's bi-weekly, Thursday evening series:
July 26 – Throwback to the 60's
August 9 – Midtown Horns
For each concert, the rain date is the following week. With a gorgeous forecast for Thursday evening, that's not likely to be a factor this week. (But you can check yourself on the date by calling 508-485-0710 and press 8.)
*Updated (7/11/18 7:45 am): There was a mixup with the food vendor lineup for this Thursday's event. Uhlmann's Ice Cream truck won't be there after all. For now, the dessert vendor is TBD – so I replaced the event flyer to reflect that. (I'll update this post again when I have more info.)
As long as I'm updating the post, I'll also add this excerpt from a Friends of Southborough Youth Commission comment below:
For this year's fund raiser we are selling t-shirts which you can tie-dye on the spot (fun, fun, fun!) and coloring books featuring summer themed artwork by local artists (Southborough kids!). Even though it was very hot at the last concert, the breeze was wonderful. We don't want the sunny spot to keep people from coming so feel free to bring portable shading apparatus with you. (ie: canopies, umbrellas)
Updated (7/11/18 12:05 pm): The dessert vendor has been announced. It's the same as the dinner vendor. The Dogfather will be bringing an ice cream cart.