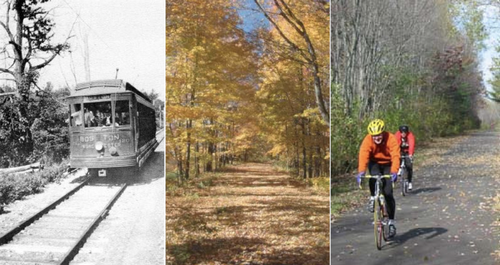 In January, I shared an opportunity for residents to weigh in on a potential bike trail through Southborough.
At that time, Don Burns, an advocate for the project, commented to clarify some details. Next week, he'll be visiting the Southborough Library.
[Editor's Note: Once again, the Library is now temporarily closed. But I'm sure it will be back open in time for upstairs programming before then. I'll be keeping readers posted when I have an official update to share.]
Burns is a member of Westborough's Bicycle and Pedestrian Advisory Committee. On Thursday, September 27th, he'll talk to the public about the "BWALT" project:
This talk will look at the history of the trolley, the aqueduct and the railroad that form the infrastructure of the proposed multi-use trail. The talk will discuss approaches to building the trail and the challenges and benefits of having the trail. The current status of the trail, and the plans for the immediate future will be discussed.
The BWALT proposal is for a "multi-use path" to allow safe area commuting by bicycle. Trails would potentially link up Southborough to Marlborough and Westborough, with possible connections to Northborough and Berlin. From Berlin, cyclists could even link to the Mass Central Rail Trail.
Although the "Boston Worcester Air Line Trail" is clearly rooted in a rail trail, the concept plan would require some non-rail based portions for Southborough connections.
You can read more about the project on the BPAC's website. The presentation will be at 7:00 pm in the main level of the Library. The talk is sponsored by the Southborough Trails Committee.