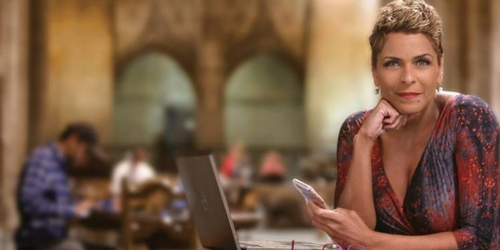 The Northborough and Southborough Public Schools shared an announcement about an important program taking place tonight. Yesterday's notice was for an event at the Northborough Library on sensitive topic – Revenge Porn and Teen Sexting.
The event will be headlined by a former news anchor who was the victim of revenge porn and cyber harassment. Her talk will be followed by a roundtable. One of the panelists is the school district's Superintendent Christine Johnson.
The talk is tonight, Thursday, September 20th at 6:00 pm. Attendees are asked to RSVP.
Here are the details from the event website:
The MetroWest Commission on the Status of Women (MWCSW) invites you to joins us on Thursday, September 20th at 6:00 p.m. at the Northborough Library for a discussion on Revenge Porn and Teen Texting.

The discussion will be led by DARIETH CHISOLM, founder of 50 Shades of Silence: A Global Movement Giving Voice and Dignity to Victims of Cyber Harassment and Abuse.

Ms. Chisolm is an Emmy award-winning former ABC News Anchor, author and speaker, and was a victim herself of revenge porn and cyber sexual harassment. Ms. Chisolm has recently been featured on the Megyn Kelly TODAY show and The Dr. Oz Show.

Her personal experience gives her unique qualifications to address an issue that is becoming more prevalent. A 2017 nationwide study by the organization Cyber Civil Rights Initiative found that 1 in 8 American social media users have been targets of nonconsensual pornography (NCP). Women were significantly more likely (about 1.7 times as likely) to have been targets of NCP compared to men.

We will also be discussing teen sexting here in the MetroWest community.

After we hear from Ms.Chisolm we will have a roundtable discussion. The roundtable panelists include:

Represenatative Danielle Gregoire, Pattie Hallberg, CEO of Girl Scouts of Central and Western Massachusetts; Beverly Hugo, President of Massachusetts Association of School Committees; Christine Johnson, Superintendent of Northborough and Southborough Schools; Rianna Mukherjee, co-president of She-Hawks; and Anusha Tandon, Executive Board Member of Boston Girl Up.

The 2016 MetroWest Adolescent Health Survey reports cyberbullying victimization in MetroWest (19%) remains higher than in the state (13%) and nation (16%) Few cyberbullying victims seek help from adults. Among students who were cyberbullied in the past 12 months, only 16% had talked to an adult at school and 30% had talked to a parent or other adult outside of school about being cyberbullied. This is an issue anyone with teenagers in their life needs to be concerned about.

This meeting is open to people of all ages and this is free event. We do ask that you RSVP.

The event is sponsored by Anthony Joseph Realty. For more information please go to: http://www.anthonyjosephrealestate.com/

We hope you can attend!