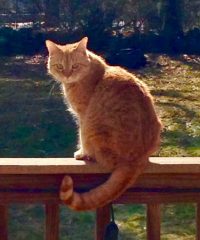 Please help us find owners find their missing cat, Lulu.
She was last seen on September 23rd in the Flagg Road part of town.
According to her owners, she is very sweet – except towards chipmunks and mice.
She's been missing so long – I'm wondering if she has "found" another family. If so, please know that her original family is still desperately looking for her.
They had already notified many neighbors, posted on Facebook groups and put her poster up on nearby telephone poles, but she is still MIA. They are hoping that the blog can help reach someone who has spotted her.
If you have seen her, please call 508-272-7087.
(Click photo to enlarge for a better look.)