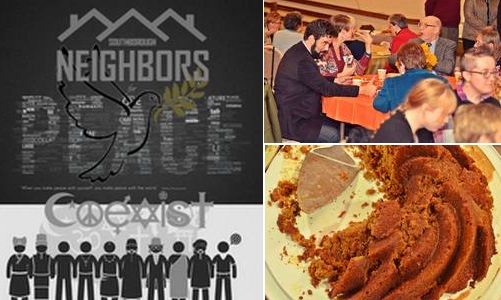 This Sunday, St. Mark's Episcopal Church is hosting another "Neighbors for Peace" event. This one is in conjunction with the United Parishes of Southborough.
You can think of it as a pre-Thanksgiving celebration. In addition to an interfaith service, attendees can gather afterwards to share refreshments.
Last year, about 100 people took part in the interfaith event, which included a full Thanksgiving potluck. This year, they are keeping the potluck more simple by focusing on dessert.
Here is the invitation from St. Mark's:
Neighbors for Peace and the United Parishes of Southborough is hosting an Interfaith Thanksgiving Service on Sunday, November 18 at 7pm at St. Mark's Church. The service will include readings and prayers from a variety of faith traditions, hymns, expressions of gratitude from local Cub Scouts, and more. A collection for the Southborough Food Pantry's Fuel Assistance Program will be taken.

Join us following the service for a potluck dessert gathering.
Below is a "snippet" of last year's service posted to Facebook by Neighbors for Peace:

Photos from the potluck after the service show a great turnout. Here are highlights from the Facebook album: