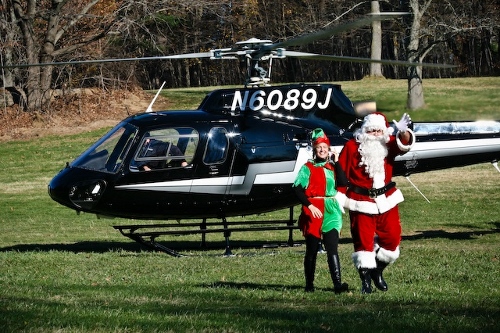 I hate to bring it up, but. . . Christmas celebrations and festivities are sooner than you think. The biggest weekend for holiday celebrations and sales is in just over two weeks.
Santa will be making his traditional pre-Christmas trip to town on the first Saturday in December – December 1st. Weather permitting, he'll be flying in by helicopter again.
(As I always explained to the young ones – reindeer can only fly on Christmas Eve, and the North Pole is quite a long trip by land. It just makes sense.)
The helicopter lands on the St. Mark's field at the corner of Routes 30 and 85 at noon. The big guy emerges to greet the crowd buzzing with excitement. After a few minutes, he works his way through to cross the street to the Community House.
Inside is where he fulfills his real purpose – to find out from children what they want for Christmas (while grownups snap pictures).
The annual event is organized by Southborough Kindergroup. Here is their announcement of this year's details:
This year is the 41st annual Santa Day, and it is on Saturday December 1st from 12-3. . .

Food trucks will be on St. Mark's field to keep everyone satiated. The Dogfather, Melt Foodtruck, and Yummy Mummy will be joining us.

Memories in an Instant will do the photos at the Community House again, which significantly expedited the lines last year. Tickets will be $10 per photo.

Also, Mister Vic will be inside the Community House, running an interactive sing-a-long.
Santa Day is one of several traditional Christmas celebrations in town the first Saturday in December. Others that I've already confirmed are taking place that day are the Library Christmas Tree decorating party for kids and St. Mark's Church's Annual Christmas Bazaar. Stay tuned for details on those events as well.