This weekend, local artisans will band together to hold a 9th annual Holiday Art and Gift Sale in Southborough. Attendance is open to the public and free.
A few years ago, the traditional sale at "the Stables" (across from Chestnut Hill Farm) expanded to include a sattelite location at the L'Abri Fellowship center. Last year, they added the preview night.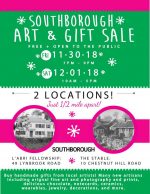 This year's event will again boast a slew of sellers:
Buy handmade gifts from local artists! Many new artisans including original fine art and photography and prints, delicious chocolate, notecards, ceramics, wearables, jewelry, decoupage, potted succulents, wooden signs and bird houses, body products, sewing kits, handmade books, felted vessels, home decor, and more.
They will also be selling tickets for raffle baskets, each location supporting a different cause. All Southborough educators will receive one free ticket at each spot.
Here are the specifics:
Preview Sale – Friday, November 30, 7:00 – 9:00 pm
Sale Day – Saturday, December 1, 10:00 am – 5:00 pm
2 Locations for both times:
The Stables at 10 Chestnut Hill Road (Raffle will benefit a child in need of specialized medical treatment.)
L'Abri Fellowship at 49 Lynbrook Road (Raffle will benefit The Friends of the Southborough Library.)
Last year, organizers promise plentiful parking at both spots including close parking for those requiring it. I'm sure that will still hold true this year.