Congregation B'nai Shalom is hosting a special event next weekend. The event "TSOYBER! (Magic!)" is described as an evening of international musical gems with roots entwined in Jewish life.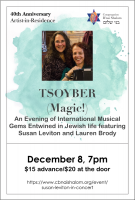 [Editor's Note: I generally only cover events outside of Southborough when they have a clear link to our town. Since we don't have an in-town synagogue, I sometimes include news from B'nai Shalom which includes members living here. ]
The December 8th program features guest Artist-in-Residence, Susan Leviton, along with Lauren Brody:
Join them on a musical magic carpet ride as they present songs and instrumental music in Yiddish, Judeo-Spanish, Russian, Hungarian, Bulgarian, Croatian, Macedonian and English with audience participation! Lauren and Susan have been performing together around the United States and the Caribbean for over a decade, and they bring their deep historic and linguistic integrity and musical depth to audiences who are astonished by their gifts.
The event takes place Saturday, December 8th from 7:00 – 9:00 pm. It will be held in the synagogue's sanctuary at 117 East Main St, Westborough.
Tickets are available in advance for $15 online or by calling the temple office at 508-366-7191. The door prices is $20 per person.
A press release explains that the concert is part of a series of programs to celebrate the synagogue's 40th anniversary:
Rabbi Rachel Gurevitz explained that she booked Susan as the congregation's Artist-in-Residence to celebrate the congregation's 40th year in response to a revival of interest in Jewish folk arts. "Susan is the complete package. In addition to the musical talents she is sharing on Saturday night, she will be running Yiddish storytelling and arts projects with our students on Sunday morning, followed by a presentation and workshop for our members on the art of Judaic paper-cutting." Susan has applied her artistic skills to creating Ketubot (Jewish marriage documents, often created as works of art), and other art pieces. Her design work is on display in many congregations around the country, utilized in Torah covers, donor boards, and architectural features.

On Saturday night, Susan will partner up with another great musician, Lauren Brody, of New York, for a concert of international music. Susan has presented at the Yiddish Book Center, Ashkenaz Festival, KlezFest in Yvpatoria, Crimea, and countless venues around the United States. Susan's two solo recordings, Zingendik! and Deep Skies, have been critically acclaimed and are widely played on radio programs around the world. Lauren Brody has been a pioneer in both the Balkan and Yiddish music scenes in the United States. She was a member of Kapelye, Mikveh, Merak, Novo Selo, Pitu Guli, Yuri Yunakov Ensemble and Ivan Milev Balkan Folk Band. She has appeared in the feature films "The Chosen" and "Over the Brooklyn Bridge".