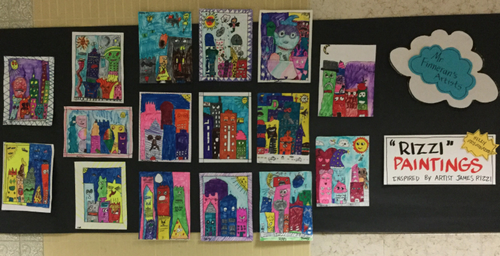 Neary School and the Southborough Senior Center have partnered up for some more events next month. One offers seniors a chance to enjoy student art. Others focus on "intergenerational" volunteer opportunities.
If you are interested in participating in any of these, please contact Peg Leonard at (508) 229-4453 or pleonard@southboroughma.com. (Though, I should note that she's not in the office on Mondays and the center closes at 3:00 pm today.)
Neary Art Stroll – Wednesday, December 5th, 10:30 – 11:30 am
Come and take a stroll through the halls of the Neary School with their Art Teacher along with the students to view and listen to the explanations of many art projects on display.

Worth its weight in gold! Please call the senior center or let Peg know if you are interested in attending.
Art Quest – Wednesdays, December 5th & 12th, 8:45 – 9:45 am
The school is seeking some intergenerational volunteers for this program:
Art Quest is a unique educational program designed to develop thinking skills through observation of visual works of art. Art Quest integrates art history and art appreciation with class curriculum providing students with an opportunity to learn visually.

The digital projection of two images simultaneously provides opportunities for comparison and encourages students to participate in discussions. By examining and analyzing works of art participants learn historical information and to identify individual artists' styles and movements. Art Quest stimulates curiosity and imagination while improving and developing critical, creative and interpretive thinking skills.
Neary Student Book Swap – Friday, December 14th
The school is seeking intergenerational volunteers through the Senior Center for the school's annual pajama day to celebrate reading.
The 7th annual Neary Book Swap will be all day! There were so many books to choose from and everyone will leave smiling with "new to them" books! Volunteers would assist in organizing the books into the genres and reorganizing between classes.