This month, young girls are invited to find out what being a Girl Scout is all about. Unlike past "Info Nights" focused on parents' registration paperwork, the "Sampler" meeting will give kids and parents a taste of what meetings are like.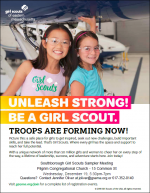 The event is geared towards Daisies (girls K-1) but will welcome others who want to learn more in person.
The Southborough Girl Scout Sampler Meeting will take place Wednesday, December 19 from at 5:30 – 7:00 pm in Pilgrim Church's Fellowship Hall, 15 Common Street:
At this event, girls will get to experience an abbreviated troop meeting while parents/caregivers participate, as well. The first 30-40 minutes will be devoted to a sample troop meeting, while the last 20-30 minutes will be spent with parents/caregivers to discuss the registration process, troop logistics, and volunteer opportunities.

The meeting will be geared toward younger girls but anyone interested in Girl Scouts is welcome to attend to learn more about opportunities for all ages!
Girl Scouts of Eastern MA is holding the event to help recruit members for two new troops forming:
Kindergarten Troop 67206
First Grade Troop 67211
To RSVP or ask questions, contact Jennifer Oliver at 617-352-0140 or joliver@gsema.org. You can also pre-register to join a troop now at gsema.org.