In case you missed this over New Year's (or just forgot).
This weekend, some residents are looking to start the New Year off with a sense of community. They invite you to join them to celebrate Peace and Unity.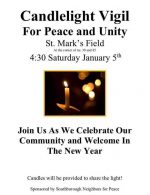 Southborough Neighbors for Peace is hosting a candlelight vigil on St. Mark's field* on Saturday, January 5th at 4:30 pm.
The group will be handing out candles to everyone who joins them, "to share the light."
They invite you to bring family and friends to help spread "the message of Peace & Love."
*The field is at the corner of Routes 85 and 30, across from the Library.
Updated (1/5/19 11:58 am): With rain in the forecast, I checked in to find out what the plan is. Apparently battery powered "candles" will help keep the candlelight vigil going tonight. So dress for rain (and possible mud) and come on out to the field for the 4:30 vigil!